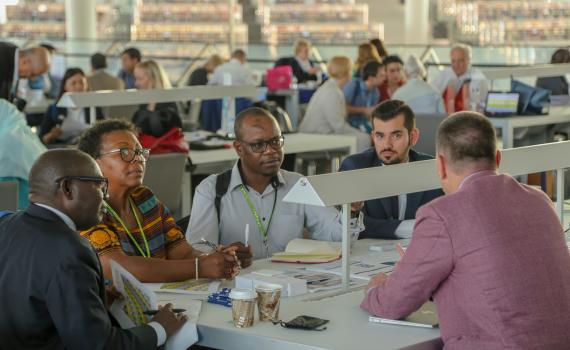 Rima Kupryte, EIFL Director, looks back at our achievements and successes over the past three years and presents our 2021-2023 Strategic Plan. 
Access to knowledge has never been more critical. The COVID-19 pandemic has highlighted the vital need for knowledge and information and the benefits of open science. At the same time, the pandemic has deepened global inequalities and the digital divide. 
It is in this context that our 2018 - 2020 Strategic Plan came to an end. As we embark on our 2021-2023 Strategic Plan we will build on achievements and successes of the last three years and tackle new problems faced by libraries in our partner countries. 
Advance the transition from paywalled to open access content
Paywalled content: Although more journal articles are available in open access, many are still behind paywalls. Over the past three years, the EIFL Licensing Programme, led by Romy Beard, continued to negotiate agreements with publishers to provide more affordable access to paywalled journals, e-books and databases on behalf of library consortia in the countries where we work. 
Usage of EIFL-negotiated content by students, researchers and faculty grew steadily year on year. In 2018, 5.8 million full-text articles and e-book-chapters were downloaded, 26% more than in 2017; 2019 saw 6.4 million downloads, 30% more than in 2018. (We are currently collecting usage statistics for 2020.) 
Our partner consortia and their members also have access to content that is not negotiated by EIFL. We provided advice to consortia to help them obtain acceptable terms when conducting their own negotiations with publishers. Going forward, we recognize that there is still a need for access to certain paywalled content, and we will continue to negotiate agreements for our partner library consortia, and to provide support and advice on their negotiations.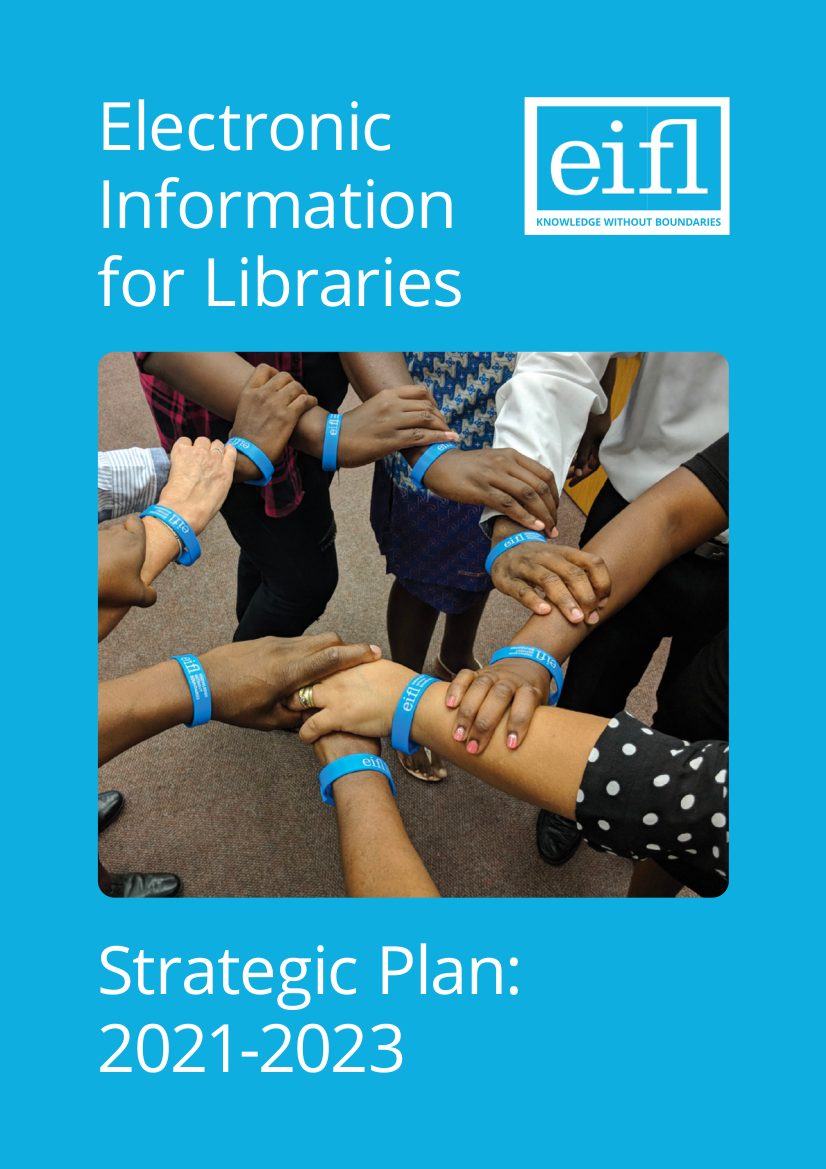 Open Access content: At the same time the EIFL Licensing Programme and the EIFL Open Access Programme, led by Iryna Kuchma, worked together to increase the amount of content available in open access (OA) by encouraging authors to publish in OA and to make their articles available in OA repositories.
We signed agreements with 10 publishers over the last three years allowing authors from our partner countries to publish their articles in over 2,500 fully OA or hybrid journals at waived or discounted Article Processing Charges (APCs). We will continue to negotiate these agreements, including publish and read offers, and evaluate their impact on OA publishing. 
The EIFL Open Access Programme will continue to advocate for funder/institutional policies that mandate OA to publicly funded research and require making research outputs available in OA repositories. Over the past three years, as a result of our work, four countries (Ethiopia, Hungary, Poland and Serbia) adopted national policies mandating OA to all publicly funded research. In addition, 81 institutions in 11 countries adopted policies mandating deposit of articles in OA repositories.
As our efforts  to increase the amount of content in open access repositories intensified, we identified an issue that authors face in complying with publisher policies when depositing articles in repositories. Publishers impose different embargo periods for depositing in OA repositories, and most only allow the Author Accepted Manuscript (AAM) to be deposited. Many researchers are unable to find or obtain copies of their AAMs after lengthy embargo periods.  We will seek solutions to this problem in our future discussions with publishers.
Support research, teaching and learning
To support research, teaching and learning, we identified key issues that we will continue to address in the next three years.
Remote access:  Off-campus access to licensed e-resources is an issue for libraries in our partner countries. Many libraries do not have adequate IT infrastructure to provide remote access for students, researchers and faculty working and studying from home.
The EIFL Licensing Programme negotiated discounted pricing for RemoteXs (a product of Eclat Engineering). COVID-19 and the resulting lockdowns of universities and libraries sharpened the focus on remote access. By the end of 2020, 104 libraries from 11 countries had subscribed to RemoteXs. We will continue to look for other technical solutions for remote access and offer more options to libraries. 
Copyright: The pandemic also placed restrictive copyright laws, with inadequate limitations and exceptions for libraries, under the spotlight as teaching and learning moved online.  Copyright laws are central to use and sharing of knowledge and information. Many copyright laws in EIFL partner countries do not have provisions needed for libraries to meet information needs of their users. The EIFL Copyright and Libraries Programme, led by Teresa Hackett, has been advocating for copyright reform, nationally and internationally, to ensure the adoption of modern copyright laws that maximize access to knowledge.
In the past three years, copyright laws in five EIFL partner countries (Belarus, Kenya, Kyrgyzstan, Myanmar and Thailand) have improved. The improvements relate to a broader range of uses of copyrighted material by libraries. We will continue to provide advocacy and advice to librarians and policy makers in EIFL partner countries that are in the legislative process, or where there are opportunities to improve the law.
The EIFL Copyright and Libraries Programme also had considerable success advocating in partner countries for ratification of the Marrakesh Treaty, which improves access to knowledge for print-disabled people. Between 2018 and 2020, 16 EIFL partner countries joined the treaty. Seven countries have already implemented changes to their copyright laws to allow libraries to  reproduce printed works in accessible formats (such as braille, audio, large print, digital), and to exchange these works across national borders. We will continue to advocate for ratification of the treaty in more EIFL partner countries and provide recommendations for implementation into national law. 
We will also continue to seek an international instrument at the World Intellectual Property Organization (WIPO) for copyright limitations and exceptions for libraries, archives, and museums that support education and research.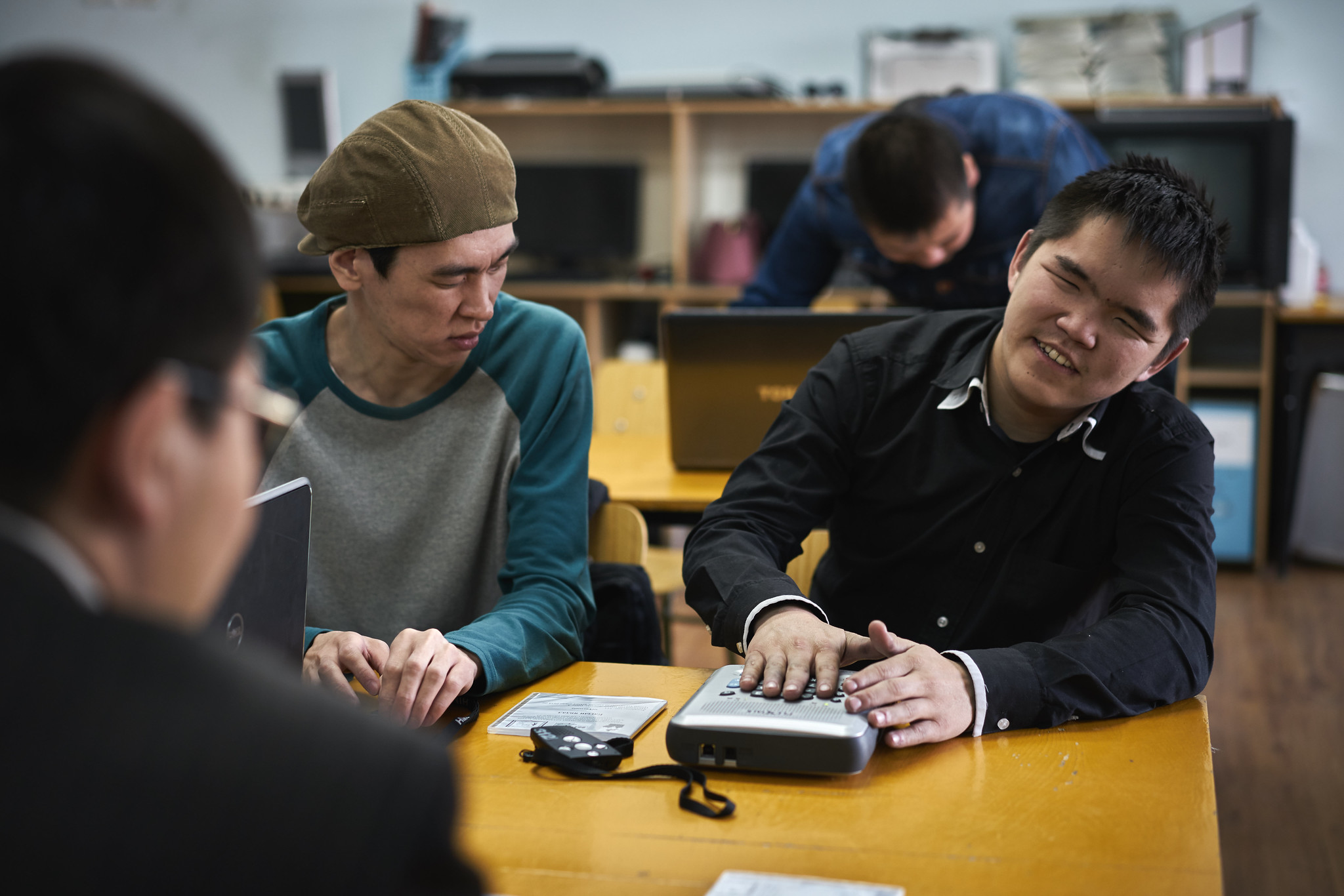 Infrastructure to support open research: As more researchers practise open science and open research, it is vital that OA infrastructure is available and sustainable. From 2018 - 2020 the EIFL Open Access Programme helped to improve 121 OA repositories and OA journal publishing platforms. We were part of an international partnership that created and launched the MERAL (Myanmar Education Research and Learning) portal - a national repository. By the end of 2020, 21 universities had joined the MERAL portal and over 6,000 research papers had been made available in OA through the portal. More universities have expressed interest in joining the MERAL portal.
Going forward, we will continue to advocate for open public infrastructures that enable the publication and sharing of research in open repositories and open access journals.
Open Science skills: Over the past three years, we have been involved in international initiatives to boost open science skills and knowledge. EIFL partnered with the EU-funded FOSTER and OpenAIRE projects to produce many useful resources and training materials on open science. Over 250 open science trainers attended 10 FOSTER bootcamps and over 33,600 researchers were reached through FOSTER and OpenAIRE face-to-face events and webinars. 
Our future strategy commits to further enhancing open science and open research skills by organizing train-the-trainer activities, creating training materials, and advocating for research incentives and structures that support and promote open science and open research skills acquisition.
Digital transformation of public library services
Equipping public libraries with ICT: Over the last three years, the work of the EIFL Public Library Innovation Programme led by Ramune Petuchovaite, has focused on Africa, where the digital divide is greatest. We advocated for resourcing of public libraries with digital technology to provide public access to the internet and built the capacity of public libraries to make good use of technology in library services and to train people in their communities to use ICT.
Our advocacy contributed to inclusion of public libraries in national ICT strategies. Since 2018 we have seen successes in Uganda, where public libraries have been included in the national ICT roll-out programme, and in Tunisia, where the government has agreed to permit public internet access in libraries. We will continue to advocate with governments for resourcing of public libraries with ICT. 
Training: In 2020 we completed training-of-trainers programmes in partnership with the Kenya National Library Service (network of 61 public libraries / 31 trainers), Namibia Library & Archives Service (network of 66 public libraries / 16 trainers), National Library of Uganda (supports 45 public libraries under local municipalities / 4 trainers) and the Library and Information Association of Zambia (19 public libraries across three networks / 11 trainers). The trainers learnt adult education and training skills, and 11 subjects related to ICT and new service development in public libraries. In cascade training workshops organized by the national networks the newly-skilled public library trainers have been providing ICT skills training in their communities and upskilling other public librarians in their networks. Our capacity building programmes continue; we are in discussion with public library systems in other countries in Africa about train-the-trainer programmes. 
ICT-based services in public libraries: Our Public Library Innovation Award generates excitement in the public library community, and has shone a light on the different ways in which libraries use technology to improve access to knowledge in their communities. From 2018 to 2020 nine public libraries from Africa, Asia, Europe and Latin America won EIFL Public Library Innovation Awards. We will be issuing annual award calls from 2021 to 2023.
EIFL's Strategic Plan 2021 - 2023
We look forward to working with our partners, current and future, and our network over the next three years.