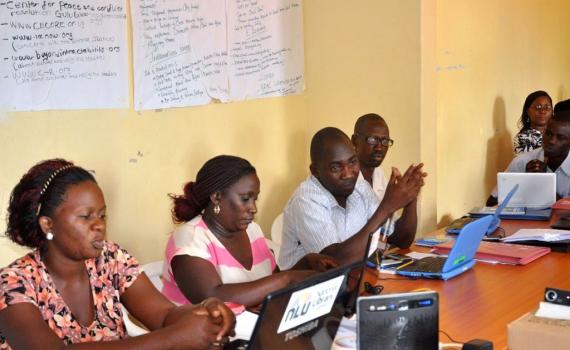 In 2014/15 EIFL worked with local partners to implement a major capacity building initiative involving 24 librarians from 22 public and community libraries that currently provide public access to computers and the internet.
The training built librarians' capacity to use information and communications technology (ICT) effectively, and to create new public library services that use ICT to benefit communities. It also built librarians' training capacity so that they can teach community members to use ICT.
The training was organized by the EIFL Public Library Innovation Programme (EIFL-PLIP).
EIFL'S TRAINING PARTNERS
EIFL's main partners in this initiative are the National Library of Uganda (NLU), which develops policy and sets standards for libraries in Uganda, and the non-governmental agency, Maendeleo Foundation, which provides computer and internet training in schools, libraries and communities in East African countries.
There are 32 public libraries in Uganda.
WHAT THE TRAINING COVERED
The curriculum comprised four modules:
Module 1: Advanced ICT skills for public librarians.
Module 2: Internet searching and e-resources.
Module 3: Developing and managing new public library services, including community needs assessment, service design, writing fundraising proposals, new service implementation and impact assessment.
Module 4: Communications and advocacy for new services.
Training was broken into three sessions. Gaps of at least a month between training sessions enabled librarians to return to their libraries and practice their new skills in their daily work.
"In all my life I have never attended such productive and relevant training!" said public librarian Babirye Prossy, of CFYDDI - short for Centre for Youth Driven Development Initiatives - a community public library that serves rural communities in Wakiso District in central Uganda.
See what more Babirye has to say in the You Tube video (right), or view here.
TIMELINE
November 2014 to March 2015 .
IMPACT OF THE TRAINING
Four to six weeks after the training, EIFL conducted a post-training skills audit. The audit found that:
The number of librarians offering ICT training to community members had increased by 46%. By just six weeks after completing training, librarians reported that they had successfully trained a total of 80 fellow librarians and over 650 community members to use computers and the internet.
 
70% of trainees said that they felt more confident about integrating ICT into services to benefit communities, and over 65% said they had started new services, using ICT. New services include teaching community members to open email accounts and to communicate online; supporting farmers' information needs; computer training for young women who have dropped out of school, and e-literacy skills training for community members.
 
50% of trainees said they had drafted project proposals for new library services and submitted them to donors to raise funds.
"We are training girls who have dropped out of school to use computers - and the number is overwhelming since the library has only three computers." - Geoffrey Tumwesigye, Hoima Public Library
Further training for ugandan public librarians
In partnership with NLU and Maendeleo Foundation, EIFL conducted the following training:
Advanced ICT skills and proposal writing (September 2016), attended by 24 librarians from 22 public and community libraries. This training followed requests from public librarians who took part in the pilot capacity building initiative.
Statistics and evaluation workshop (May 2017) attended by public library leadership and public librarians from Ethiopia, Ghana, Kenya, Namibia, Uganda and Zambia.
How to organize and facilitate learning circles (in-person study groups of people taking online courses) in libraries (April 2018), attended by 25 Ugandan public librarians from 15 public libraries.
Four public librarians attended a training-of-trainers workshop (May 2019), learning training and facilitation skills to enable them to train their fellow librarians.
FIND OUT MORE
The Uganda training was EIFL's second major national public library capacity building initiative for public librarians in Africa. It followed successful piloting of a training initiative in Ghana. EIFL has also conducted similar training in Ethiopia, Kenya and Zambia.