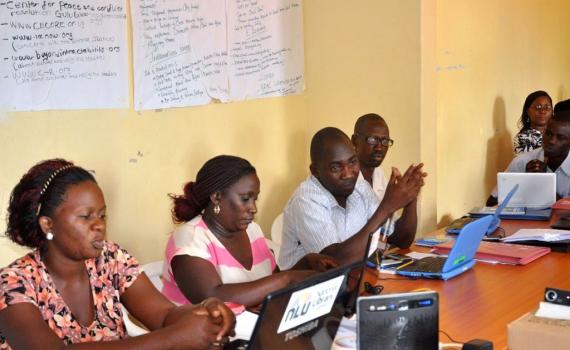 In 2014/16 EIFL worked with local and international partners to implement a major capacity building initiative involving 22 public and community libraries that were providing public access to computers and the internet. The training built librarians' capacity to use information and communications technology (ICT) effectively, and to create new public library services that use digital technology to benefit communities. It also built librarians' training capacity so that they can teach community members to use computers and the internet.
In 2019, in partnership with National Library of Uganda, EIFL developed a programme to train National Library of Uganda staff responsible for public and community library development to become trainers within Uganda's network of 34 public libraries.
WHAT THE TRAINING COVERED
Training of trainers
Generic training skills - how to plan, organize and conduct training on different subjects.
Digital technology skills
Designing ICT training for different user groups, and providing ICT training skills so that public librarians are able to develop digital skills training courses and provide training in their communities.
eResources and internet searching, which builds capacity to find and access e-resources, and to use search engines to find reliable and relevant resources.
New services
Introducing new library service ideas, including conducting community needs assessment, building action plans, and budgeting.
Facilitating learning circles, which builds skills for facilitating small groups of online learners to improve course retention rates.
Re-thinking library spaces, in which librarians learn how to modernize and make more attractive library spaces.
Impact and advocacy
Performance, outcomes and evaluation of library services - collecting and analyzing statistics and other data about the impact of new services.
Library communications and advocacy - preparing communications strategies for proposed new services, and advocating for government funding.
TIMELINE
2014 - 2019
IMPACT OF THE TRAINING
From 2014 to 2016, 24 librarians from 22 public and community libraries that had computers and the internet at that time completed training. An assessment of the impact of the training found that:
The number of librarians offering ICT training to community members had increased by 46%. By just six weeks after completing training, librarians reported that they had successfully trained a total of 80 fellow librarians and over 650 community members to use computers and the internet.
70% of trainees said that they felt more confident about integrating ICT into services to benefit communities, and over 65% said they had started new services, using ICT. New services include teaching community members to open email accounts and to communicate online; supporting farmers' information needs; computer training for young women who have dropped out of school, and e-literacy skills training for community members.
50% of trainees said they had drafted project proposals for new library services and submitted them to donors to raise funds.
In 2019, four National Library of Uganda staff members completed our train-the-trainers programme. They are being deployed in ongoing staff development within Uganda's network of public libraries, and in 2019/20 the trainers organized workshops for librarians in three regions (Central, Western, Northern in Lira), equipping 40 public librarians with new skills. 
WHAT'S NEXT FOR EIFL'S UGANDA CAPACITY BUILDING INITIATIVE?
In 2021, EIFL, National Library of Uganda and other partners launched a project that will improve the training capacity of staff at 25 public and community libraries. The libraries will specifically offer digital skills training to women and unemployed youth, and connect them to free online learning opportunities.
FIND OUT MORE