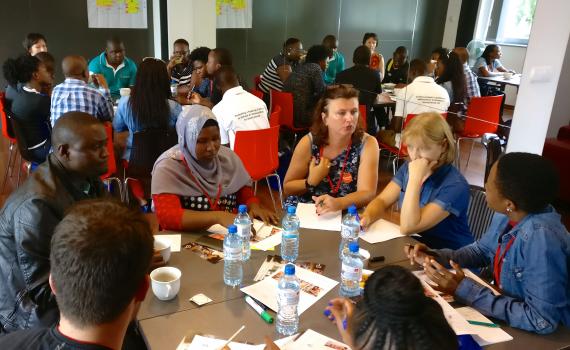 The internet has become the major source of information, yet billions of people do not have the technology and skills needed to access the internet. Public libraries are important players in bridging this gap, but in developing countries many libraries also lack computers and internet connections.
The EIFL Public Library Innovation Programme (EIFL-PLIP) addresses this situation by supporting and training public libraries to expand access to information and address community needs by introducing new kinds of services that use digital technology. EIFL-PLIP also advocates for equipping public libraries with computers and internet connections for use in community development services.
The Initiative for Young African Library Innovators (IYALI) aims to accelerate the introduction of new technology-based services, and to increase advocacy for digital resources in public libraries. IYALI works by inspiring and building capacity of young African public librarians to take forward these aims by providing an international learning, knowledge-sharing and networking experience.
By connecting young African public library innovators with their peers outside of Africa, EIFL creates an opportunity for the librarians to expand  their professional horizons, introduces them to new ideas and helps them see their own work and achievements in a new and different light.
EIFL-PLIP has involved various partners in implementing IYALI, such as African Library and Information Associations and Institutions (AfLIA), the International Federation of Library Associations and Institutions (IFLA), Aarhus Public Libraries and the American Public Library Association (PLA), a division of the American Library Association.
MAIN ACTIVITIES
Identifying young public librarians with experience of implementing technology-based services and community outreach programmes to meet people's information needs, and a vision for development of their public libraries.
Organizing interactive and hands-on learning experiences of public library service innovations in developing and transition economy countries.
Attending international conferences and events.
Awarding scholarships to IYALI participants, on a competitive basis, to attend the AfLIA conferences in 2018 and 2019 and to share learnings from the IYALI programme with the broader library community in Africa.
"I would like to thank the EIFL-PLIP team and their partners for thinking about equipping young library professionals. In most cases, it is rare for young librarians, early in their careers, to acquire such an extensive exposure. This has opened my eyes to appreciate the profession far much more than I ever dreamed." - IYALI 2017 participant Bonny Olobo, Adult Library Officer at Kampala Public Library in Uganda.
PROJECT TIMELINE
2017 - 2020
THE IYALI LEARNING EXPERIENCE 2017-2020
In August 2017, 13 young public librarians from Algeria, Ghana, Namibia, South Africa, Tanzania, Uganda and Zambia travelled to Eastern Europe (Lithuania and Poland) for an intensive two-week learning programme. In Lithuania, they attended a workshop on public library innovation and visited public libraries. In Poland, they attended the 2017 IFLA World Library and Information Congress in Wroclaw.
In August 2018, 15 young public library innovators from Cameroon, Egypt, Ghana, Kenya, Namibia, Nigeria, Sierra Leone, South Africa, Tanzania, Uganda, Zambia and Zimbabwe travelled to Southeast Asia (Indonesia and Malaysia). In Indonesia, they attended a workshop on public library innovation and visited public and community libraries. In Malaysia, they attended the 2018 IFLA World Library and Information Congress in Kuala Lumpur.
In June 2019, six young public library innovators from Ghana, Kenya, Namibia and Zambia travelled to Denmark to attend the  Next Library 2019 conference, and visit public libraries, including Dokk1 library in Aarhus, which is the venue for the Next Library 2019 conference.
In February 2020, five young public library innovators from Kenya, Namibia, Uganda and Zambia travelled to the USA, where they visited libraries and took part in a programme linked to the American Public Library Association conference 2020, in Nashville, Tennessee. 
IYALI has inspired new thinking about libraries and librarianship, stimulated ideas for starting new public library services, encouraged public librarians to engage communities and partners, and led to creation of new networks and a peer support group of young innovators.
Ideas for innovative library services
"IYALI 2017 presented to me an opportunity to learn how best I can engage farmers and the local business community to offer services that would benefit them. Pasvalys Public Library (Lithuania) gave us a demonstration on how we can design information programmes targeting the farming community. The library can be a key partner in providing agricultural information to farmers." - IYALI 2017 participant Allan Mundeda Hagwelele, Provincial Librarian at the Southern Province Education Office in Zambia.
Insights into different uses of library spaces
"Time has come to look and use Ndola city council public library beyond its initial role of just a place of reading. This limitless place of knowledge and information should also be known for a space for learning and innovation. It should be home to where thinking, exploring and creations occur." - IYALI 2018 participant Pezo Given Kajimalwendo, Librarian at Ndola Public Library in Zambia.

 "A library is no longer a store of books, journals and magazines but 'a library of things',"  - IYALI 2020 participant, Daisy Ashabahebwa, Librarian at National Library of Uganda.
Improving management of public libraries
"One thing I will change in my library is reaching out to communities that are excluded. I want to bring all partners and stakeholders to discuss education in our community and I want at least 50 children to join school in January 2019." - IYALI 2018 participant Koi Kazungu, Senior Library Assistant at Kenya National Library Service Kwale Community Library in Kenya.
Engaging communities and partners
"My job requires engaging communities in different districts to ensure that libraries are improved. The insights from the presentation on community and partner engagement boosted my morale also to ensure that municipalities are fully engaged." - IYALI 2017 participant, Allan Mudenda Hagwelele, Provincial Librarian in Zambia's Southern Province. 

"I will be able to tailor courses, for example, youth may want more social media training and e-research skills, older learners may want to focus on email and e-government services. And in future, I will offer classes for children, adults and seniors at different times. This will help overcome learners' shyness about asking questions." - IYALI 2020 participant, Yusuf Ganyana, ICT Officer at Kenya National Library Service. 
New connections and networks
"Meeting committed librarians from all over the world changed my whole perception as a librarian. I am now quite zealous about networking, and will continue to network." - IYALI 2018 participant, Momoh Mansaray, Librarian at Kambia district library, a branch of the Sierra Leone Library Board.

 "Talking to different librarians, from Africa and the USA, I realized that across the world we share similar challenges." IYALI 2020 participant, Daisy Ashabahebwa, Librarian at National Library of Uganda.
Find out more