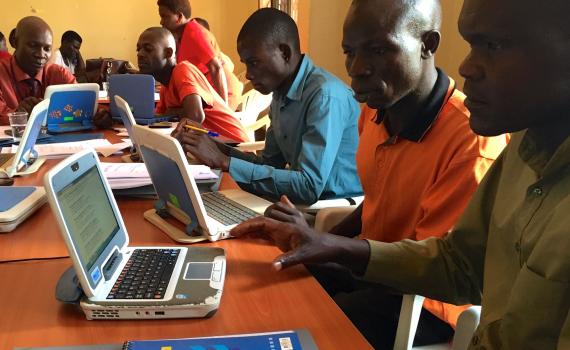 The EIFL Public Library Innovation Programme (EIFL-PLIP) builds the capacity of public librarians to integrate information and communication technology (ICT) into their services. EIFL-PLIP also builds skills and confidence of librarians to teach people in their communities to use ICT.
The EIFL-PLIP capacity building initiative targets public libraries that already have, or are about to receive, computers and internet connections. The training is designed to enable librarians to use this technology effectively to serve their communities, for example, in services that meet farmers' information needs, provide information about local health issues, or in extra-mural activities that support children's education.
Since 2014, EIFL-PLIP has launched major national capacity building programmes for public librarians in Ethiopia, Ghana, Kenya, Namibia, Uganda and Zambia.
THE MAIN ELEMENTS OF THE EIFL CAPACITY BUILDING INITIATIVE
WHAT THE TRAINING COVERS
The core curriculum comprises four main topics:
Advanced ICT skills for public librarians
Using Word, Excel, PowerPoint, email, internet and social media tools
How to develop an ICT training programme for your community; how to train community members to use computers and the internet.
Internet searching and e-resources
Using internet search engines; internet research and finding information resources that are relevant to local needs.
New public library services
How to conduct a community needs assessment
How to plan and manage a library project
Assessing the community impact of library projects and services
Raising funds - developing fundraising strategies and campaigns and writing fundraising proposals
Managing partners and other stakeholders.
Communications and advocacy for new services
Knowing your advocacy audiences and creating messages
Incorporating relevant statistics into your messages
How to work with journalists and the media
Presenting your library's story effectively
Developing and managing an advocacy plan.
TIMELINE
2014 to 2020.
ACHIEVEMENTS
The training has reached all public libraries in Ghana, Kenya and Uganda that have computers and internet connections, and which offer public access to this technology.

Evaluation conducted after the training found that 90% of trainees believed they were ready to introduce technology into existing services, and felt inspired to take action to create new services.

In Ghana, almost 90% of participants reported starting new services at their libraries.
In Kenya, 80% of participants reported that they had integrated ICT into their library services, or had initiated new services.
In Uganda, 70% of trainees said that they felt more confident about integrating ICT into services to benefit communities, and over 65% said they had started new services, using ICT. 

Reviewed continued professional development practices at Kenya National Library Service (KNLS) and developed a programme to strengthen these practices by building in-house training capacity and improving systems for assessing training needs and planning training delivery.
Watch EIFL's video on you tube to hear what one of our trainees in Uganda says about the training. 
WHAT'S NEXT FOR EIFL'S capacity building initiative for public librarians in AFRICA?
EIFL is working with public library authorities in Ghana, Namibia and Uganda to assess systems and structures for continued professional education of public librarians to see what is needed to strengthen these systems and structures.
To complete and evaluate capacity building currently underway in Ethiopia, involving librarians from 11 public libraries in Addis Ababa (Ethiopia's capital city).
To complete and evaluate capacity building currently under way in Zambia, involving 24 librarians from 12 public libraries. 
We are assessing expressions of interest in partnership from public library systems in two more countries.
FIND OUT MORE
To find out more about EIFL's capacity building initiative in Africa, contact Ramune Petuchovaite, EIFL-PLIP manager, ramune.petuchovaite@eifl.net