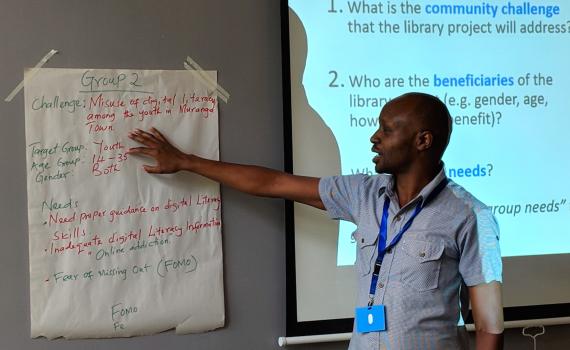 In 2014/16 EIFL worked with local and international partners to implement a major capacity building initiative involving 30 public libraries that were providing public access to computers and the internet.
The training built librarians' capacity to use information and communications technology (ICT) effectively, and to create new public library services that use digital technology to benefit communities. It also built librarians' training capacity so that they can teach community members to use computers and the internet.
In 2018/19, in partnership with Kenya National Library Service (KNLS), EIFL developed a programme to identify and train public librarians to become trainers within the KNLS network of 62 public libraries, and to strengthen systems for continuous professional development.
WHAT THE TRAINING COVERs
Training of trainers
Generic training skills - how to plan, organize and conduct training on different subjects.
Digital technology skills
Designing ICT training for different user groups, and  providing ICT training skills so that public librarians are able to develop digital skills training courses and provide training in their communities.
eResources and internet searching, which builds capacity to find and access e-resources, and to use search engines to find reliable and relevant resources.
Mobile information literacy - skills to search for online information and useful applications using smart phones.
New services
Introducing new library service ideas, including conducting community needs assessment, building action plans, and budgeting.
Design thinking for libraries, in which librarians learn about human-centred design, an approach that organizes library spaces and develops library services that can be adapted to suit different community needs and contexts.
Facilitating learning circles, which builds skills for facilitating small groups of online learners to improve course retention rates.
Re-thinking library spaces, in which librarians learn how to modernize and make more attractive library spaces
Impact and advocacy
Performance, outcomes and evaluation of library services - collecting and analyzing statistics and other data about the impact of new services.
Library communications and advocacy - preparing communications strategies for proposed new services, and advocating for government funding.
TIMELINE
November 2014 to October 2020.
IMPACT OF THE TRAINING
From 2014 to 2016, 60 librarians from 30 libraries that had computers and the internet at that time completed training. An assessment of the impact of the training found that:
80% of participants had started new services in their libraries. These services include training people in their communities to use ICT; advising community members about internet searches; conducting internet research in response to particular requests from library users; guiding women's groups in online fundraising and proposal writing; using internet resources in reading clubs for children, and providing information to library users via mobile phone text messaging (SMS).
By just four weeks after the training, the course participants had trained over 700 members of the community and 150 fellow librarians to use ICT.
The majority of participants reported that they were using ICT more frequently and effectively in their day-to-day work.
82% of participants reported increased confidence with respect to awareness-raising and advocacy, and over 65% said that awareness-raising activities in their communities had resulted in increased library membership and use.
From 2018 to 2019, 19 KNLS librarians and 12 KNLS ICT officers completed our train-the-trainers programme, and are now available for deployment in ongoing staff development within the KNLS network of public libraries.
The public librarians' curriculum included training and facilitation skills and subject knowledge in areas critical to development of modern library services. Impact evaluation showed that, after the training, the public librarians -
Felt strongly confident with their training skills. The biggest improvements were seen in developing training programmes and materials, and understanding the principles for training adults. 
Had gained competence leadership and design thinking, project management (especially fundraising, proposal writing, partnerships, stakeholder management and building activity plans), and communications and advocacy.
Were better able to perform their daily tasks as librarians, to lead teams, and to initiate new services and programmes. 
The 12 ICT Officers underwent training in Mobile Information Literacy (MIL) and MIL training skills, curriculum design and ICT training skills. Impact evaluation showed that, after the training,  the ICT Officers - 
Understood how training should be organized and conducted, had learnt new training strategies (for example, using ice-breakers, how to make training fun and engaging), and gained understanding of the principles for training adults. 
Were better able to customize ICT training to suit the needs of different groups of learners.
Were paying greater attention to training as part of their duties. In just one year (2019/20) they passed on their ICT and MIL knowledge and skills to 300 librarians and more than 1,600 library users.
Read the final evaluation report of the training. 
FIND OUT MORE