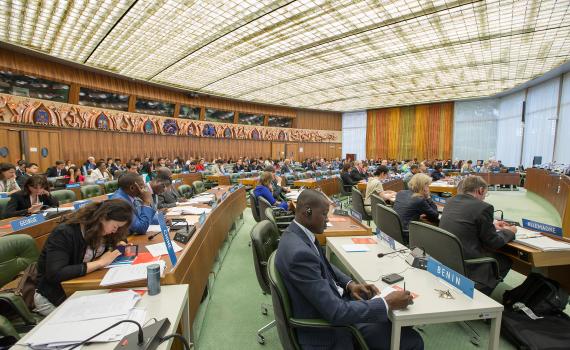 BACKGROUND
Digital technology has changed the world with new ways to create and disseminate information, to communicate and to learn. This has transformed library services with new opportunities to serve readers and communities. But the laws that govern how information is used and shared have not kept pace. In some countries, copyright laws include reasonable provisions that enable libraries to provide public access to knowledge but in many others, provisions for core library activities such as lending, preservation and inter-library document supply are absent, or they apply only to resources that exist in print format.
In fact, outdated copyright laws increasingly prevent libraries from legally performing their most basic functions, simply because the resources are digital. And evidence shows that in many cases the copyright laws of developing and transition economy countries are more restrictive than those in industrialized countries.
Copyright laws are meant to balance the public interest in using information with the rights of authors and publishers: the legal mechanism that enables this balance are copyright limitations and exceptions. However, as international rules in favour of copyright holders have been expanded through new global treaties, rules for libraries to enable access to information - that exist in a patchwork of limitations and exceptions that differ from country to country - are largely frozen in time.
Yet information and communication doesn't stop at national borders. In fact, the benefits of international cooperation in speeding innovation and improving research quality are well recognized. Technology offers libraries exciting opportunities to open collections of unique cultural and historical significance to people in other countries who share a common language or history. Joint digitization projects by libraries in neighbouring countries, and shared infrastructures for preservation, enable the pooling of technical expertise and significant cost savings, delivering better value to tax-payers and funders, as well as helping to safeguard our digital scientific, educational and cultural heritage.
Copyright laws must evolve to enable libraries to fully utilize new technologies, to properly support modern science and research practices, and to fulfill their institutional role in support of the public interest within every country and across borders.
OVERVIEW
To ensure that libraries remain effective in their capacity to serve their citizens in the global, digital age, libraries need an international copyright framework that is consistent across borders and supports the information needs of people in the global, digital environment.
EIFL advocates at the World Intellectual Property Organization (WIPO), the main body that sets global copyright norms, for an international copyright treaty to protect library activities and services. WIPO has been discussing the issue of copyright limitations and exceptions (L&Es) since 2004, see here for a timeline. One of the key results was adoption in 2013 of the Marrakesh Treaty for persons with print disabilities. Now the committee is discussing L&Es for libraries and archives, and education and research institutions.
MAIN ACTIVITIES
We participate in sessions of WIPO's Standing Committee on Copyright and Related Rights (SCCR) where we engage with member states to explain how copyright affects the work of libraries, through interventions and presentations during committee sessions. Since 2005, we have delivered 90+  interventions and presentations during SCCR and other WIPO sessions. As a result, policy-makers are aware of library copyright issues and well informed about the library viewpoint. Read EIFL statements at SCCR sessions in 2014, 2015, 2016, 2017, 2018, 2019, 2020 and 2021.
We develop background papers on library copyright issues and propose library-friendly solutions to assist member states in their discussions. Consequently, WIPO member states have made 36 proposals in support of libraries on eleven topics including digital preservation, library lending and contracts. Read the WIPO member state proposals here.
We support librarians from EIFL partner countries to attend WIPO sessions to raise awareness among policy-makers about library and information services in their countries, and to make the case for change. Librarians from Armenia, Latvia, Malawi, Moldova, Poland, Senegal, Uganda, Ukraine, and Zimbabwe participated for the first time in SCCR sessions. Read Librarians participating in policy-making.
We mobilize our network of EIFL copyright coordinators to engage with their national copyright officials in support of library advocacy at WIPO.
We developed a draft treaty on copyright limitations and exceptions for libraries and archives, (known as TLIB) to assist WIPO member states in discussions, in cooperation with the International Federation of Library Associations and Institutions (IFLA), the International Council of Archives (ICA) and Innovarte. TLIB establishes basic international standards for library activities and ensures equal treatment of digital and print resources.
PROGRESS