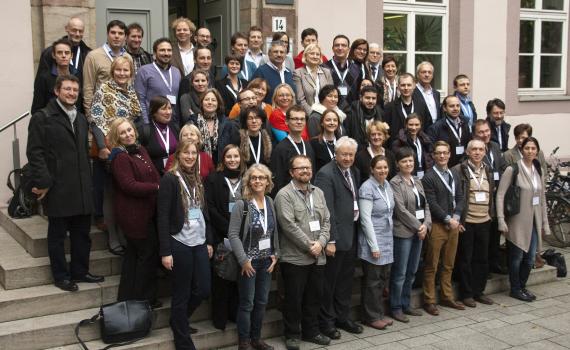 BACKGROUND
The OpenAIRE (Open Access Infrastructure for Research in Europe) project was established in 2009 to support open access (OA) in Europe. A key objective of OpenAIRE was to promote widespread adoption of the OA Policy set out in the European Research Council's guidelines on OA, and by the OA pilot launched by the European Commission (EC), which mandated OA to research. 
The EC's OA pilot covered approximately 20% of research funded through FP7 - the 7th Framework Programme for Research and Technological Development. In 2014, the EC adopted a new policy, covering 100% of Horizon 2020-funded research. Horizon 2020, known as H2020, is the European Union's biggest funding programme for research and innovation. In addition, the EC introduced an Open Data pilot in H2020. The Open Data pilot aims to make the research data generated by H2020-funded projects accessible with as few restrictions as possible.
OVERVIEW
EIFL participates in the OpenAIRE project along with 50 partners from all European Union countries, and beyond.
Over the past eight years the OpenAIRE project has become is a socio-technical network that supports open science implementation and monitoring. Embedded in a global decentralized network of data providers, namely publication and data repositories, OA publishers and CRIS (Current Research Information Systems), OpenAIRE provides key elements of open science infrastructure in Europe and other parts of the world.
The OpenAIRE portal and e-infrastructure harvests publications and OA scientific datasets, and provides inter-linking between publications, data and funding schemes. The portal covers all types of scientific outputs funded by the EC and 15 funders from 10 countries. OpenAIRE Guidelines to ensure interoperability between research infrastructures have been developed for Data Archive Managers, for Literature Repository Managers and CRIS Managers.
The OpenAIRE project also set-up an extensive European Helpdesk System, with a network of national and regional liaison offices in 33 countries, to help researchers to make their research OA and to comply with funder mandates. In addition, the project provides an OA repository for researchers who do not have access to an institutional or discipline-specific repository.
EIFL's MAIN ACTIVITIES
Coordinating activities of the National Open Access Desks (NOADs) in 12 Eastern European countries: Bulgaria, Croatia, Czech Republic, Estonia, Hungary, Latvia, Lithuania, Poland, Romania, Serbia, Slovakia and Slovenia;
Leading a task force on OA, Open Data, Research Data Management and Open Science Training;
Interacting with national networks and ministries;
Helping project coordinators to comply with funders' OA requirements; 
Supporting repository managers and journal editors and publishers to make their repositories and journals compliant with the OpenAIRE Guidelines; 
Working with national research funders to align their policies with the EC's OA policies, and 
Organizing conferences, workshops and other knowledge-sharing and community-building events and activities to promote availability of OA publications and research data.
TIMELINE
1 December 2009 - 31 December 2020 (OpenAIRE, OpenAIREplus, OpenAIRE2020 and OpenAIRE-Advance projects).