Event Date
: 22 Sep 2020 - 25 Sep 2020
Online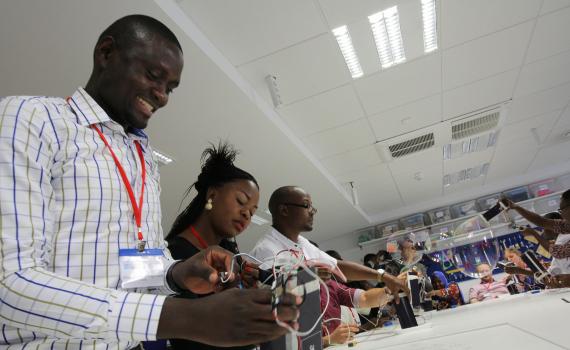 The EIFL Public Library Innovation Programme team will conduct a workshop titled 'Creating magical innovation in our libraries, with a little help from our peers' at the Occupy Library 2020 conference. 
The conference, which will take place online, explores and showcases innovative ideas being implemented in public libraries in the Central, Eastern European, Black Sea, Caucasus, and Caspian regions. It provides a space for sharing good practices in implementing public library services and for supporting libraries to become more involved in their communities. 
The EIFL-PLIP workshop takes place on Tuesday, 22 September, from 6pm to 7.30pm (Eastern European Summer Time - EEST). It will be led by Ramune Petuchovaite, EIFL-PLIP Manager, Ugne Lipeikaite, EIFL-PLIP Impact Manager and Susan Schnuer, EIFL-PLIP Capacity Building Manager.
The team will both discuss and, by using examples from Africa and Europe, will demonstrate how innovation in public libraries happens, and how innovative ideas and practices travel across borders through peer learning. Workshop participants will be able to communicate with the team during the workshop, in real time, through a mobile app, and take part in quizzes, live polls, and word clouds. 
In addition, two EIFL Public Library Innovation Award winners, Kaunas Municipal 'Vincas Kudirka' Public Library (Lithuania) and Chisinau 'B.P. Hasdeu' Municipal Library (Moldova) will give presentations and talks during the following sessions: 'Public spaces and community engagement',  (23 September, 4-5.30pm EEST); 'Active citizenships in analog and digital format' (23 September, 5.30-7pm EEST), 'Emerging tech trends to empower communities' (24 September, 3.30-5pm EEST), and 'Let's Talk! Let's Ignite Talk!', 25 September, 1-2pm EEST)
You can see the full conference programme here, and register here (registration opens on 1 September).