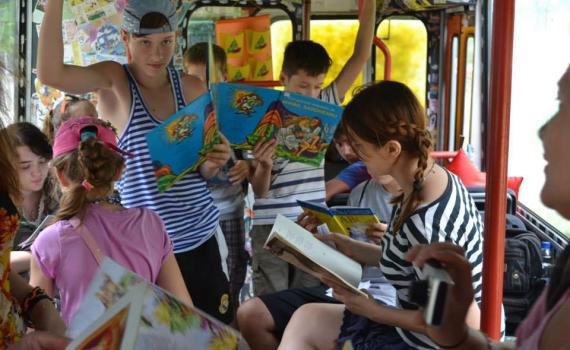 'B.P. Hasdeu' Municipal Library's 'Trolleybook' provides a dynamic learning space where children are stimulated to read, to take part in educational activities and to practice new skills during the summer holidays.
The popular library serves Chisinau, Moldova's capital city, with a population of about 800,000 people. Over 40% of citizens have library cards. Of these, over 86,000 are children and young people.
Early in 2014, librarians conducted a survey to find out young people's opinions of their digital and online services. The study found that children and youth believed the library should be "a space with a pleasant environment where you feel free to benefit from ICT (information and communication technology) and that also contains interesting books."
partners help create innovative space
With the survey results in mind, librarians set about finding the right space to engage children in constructive summer activities. They chose a concept suggested by students from the School of Library and Information Science at Moldova State University, and created a new branch library in a decommissioned trolleybus. Librarians named it the 'Trolleybook'.
Municipal agencies responded enthusiastically to the idea. The agency in charge of electric transportation, 'Transport Electric', donated a disused trolleybus. The 'Green Enterprise Association', which manages the city's parks, and Valea Trandafirilor, Chisinau's most popular park, offered space. Volunteers from 'Cocosul Rosu' (Red Rooster) Association painted characters from popular fairytales inside and outside the bus in bright colours.
Librarians stocked the Trolleybook with modern, interactive digital technology and resources (tablet computers, e-readers, audiobooks, video and music), in addition to games, magazines and books.
Trolleybook becomes the main attraction in the park
The library launched the Trolleybook in Valea Trandafirilor's amusement park, where children come to use swings, roundabouts and other rides in summer.  A media marketing campaign ensured that news about the Trolleybook reached all parts of the city, and throughout the summer, librarians reached out to young people by posting information about Trolleybook activities on a Facebook page, a blog and other social media.
Soon the Trolleybook became the main attraction in the park. Everyone was welcome - all young people, whether or not they held a library card; parents; teachers and many others.
Opening hours were Tuesday to Sunday, from 11:00 to 18:00. Two librarians were always present to guide and support the children, and to organize workshops, competitions and games.
Trolleybook stays open another month – by popular demand
Originally, the library intended to close Trolleybook at the end of August, but after receiving overwhelming positive feedback, they decided to keep it open for another month.
Over 11,600 children and youth took part in 400 activities, including storytelling, reading programmes, drama, quizzes and educational games, presentations by authors, and workshops to build technology skills, imagination and creativity.  At weekends, librarians served an average of 300 visitors a day.
"The Trolleybook is something extraordinary! I will definitely bring my school mates!" said one happy user.
"I am a mother of three children, and I was extremely happy to discover the Trolleybook. I found it useful for my children. They could read – and I have browsed journals as well," a parent told the library.
At the end of September, everyone was sad to see the Trolleybook packed up and taken away for winter storage at the Electric Transport agency's depot.  But there is even more to look forward to next summer when the Trolleybook comes out of hibernation and the library launches a second Trolleybook in another city park.
More public libraries supporting education
Read about more innovative public library services supporting education of children and adults. PLIP-EDUCATION