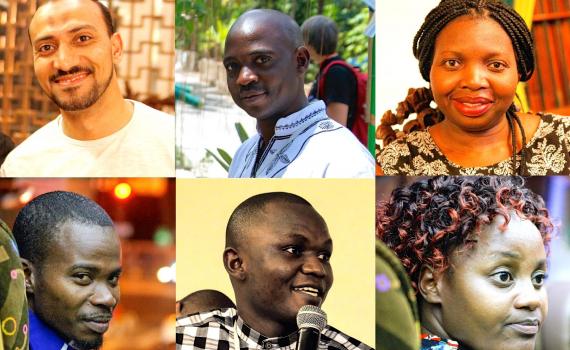 Posted: February 26, 2019
Congratulations to six young African public library innovators who have won scholarships to take part in the 3rd conference of the African Library and Information Associations and Institutions (AfLIA) and 5th African Library Summit in Nairobi, Kenya. The Summit theme this year is 'African Libraries Creating the Africa We Want and Achieving the Sustainable Development Goals'.
The Summit will be attended by public library leadership and librarians, government officials and information stakeholders from across the African continent.
The scholarship are awarded by IYALI - the Initiative for Young African Library Innovators - which aims to expand the professional horizons of African public librarians and help them see their own work and achievements in a new and different light. IYALI is a partnership between the EIFL Public Library Innovation Programme (EIFL-PLIP), AfLIA and the International Federation of Library Associations and Institutions (IFLA).
In April 2018, the IYALI partners selected a group of young African library innovators, on a competitive basis, to travel to southeast Asia (Indonesia and Malaysia) for an intensive learning, knowledge-sharing and networking experience. Afterwards, group members were invited to apply for scholarships to share learnings from the IYALI programme with the broader library community in Africa at the African Library Summit, which is organized by AfLIA.
The scholarship winners will each give an Ignite Talk addressing the theme of the Summit, and highlighting new ideas and innovative services implemented at their  libraries.
MEET THE SCHOLARSHIP WINNERS
Cameroon - Harouna Ahmadou Saliou Yerima, Head of Garoua Municipal Library in northern Cameroon. Harouna's Ignite Talk will be about how the library is boosting computer literacy in the community through new teaching methods and awards for learners.
Egypt - Mostafa Tuhami, Librarian (Deputy Branch Manager) of Misr Public Library in Zaytoun, Cairo. Mostafa will give a presentation on the library's use of online educational games to develop and improve students' English language skills.
Kenya
Koi Michael Kazungu, Senior Library Assistant at Kwale Community Library, which serves communities in Kwale County. The library is a member of the Kenya National Library Service (KNLS) network, and Koi's Ignite Talk will be about how 10 KNLS branch libraries are improving lives by organizing learning circles, which are in-person study groups that help people complete online courses.
Joan Njogu - ICT Officer at KNLS / Meru Public Library, eastern Kenya. Joan will give a presentation on how the library is stimulating senior citizens' interest in libraries by introducing them to the library and offering spaces in the library where they can hold meetings and organize group activities.
Sierra Leone - Momoh Mansaray, Kambia District Librarian. Kambia is a trading centre in northern Sierra Leone. Momoh will speak about the library's outreach programme, titled 'Think Kambia' which sensitizes schoolchildren and the wider community about issues affecting peace in the community.
Zimbabwe - Letshani Ndlovu. Chief Librarian at Bulawayo Public Library.  Letshani's Ignite Talk will be about the library's computer and internet skills training programme for visually impaired people.
In addition, EIFL is supporting Joseck Olala of KNLS/Nakuru Public Library, to participate in the summit and to present a paper. The paper is titled 'Proposed Design Thinking Approach in Creating User-centered Services Through Public Libraries: A case study of Kenya National Library Service'.
FIND OUT MORE ABOUT IYALI 2018
See Riding the Wave of Change, EIFL's blog about the insights and inspirations shared by the IYALI 2018 group after their visit to southeast Asia.