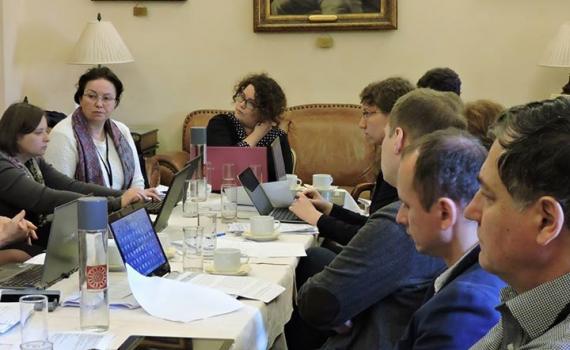 Posted: February 11, 2015
A year after the start of the European Commission's (EC) Horizon 2020 (H2020) Research Framework Programme, the OpenAIRE project (Open Access Infrastructure for Research in Europe) enters a new phase of funding for a continuation project:  OpenAIRE2020, starting in January 2015. 
The initiative will implement the (openaire.eu/open-access-in-horizon-2020) H2020 Open Access policy for publications and will be one of the key European infrastructures supporting the (openaire.eu/opendatapilot) H2020 Open Research Data Pilot.
EIFL is one of the 50 OpenAIRE2020 project partners working on this large-scale initiative that aims to promote open scholarship and substantially improve the discoverability and reusability of research publications and data. 
The initiative brings together professionals from research libraries, open scholarship organisations, national e-Infrastructures and data experts, IT and legal researchers - showcasing the truly collaborative nature of this pan-European endeavor. 
A network of people, represented by the National Open Access Desks (NOADs), will organise activities to collect H2020 funded research outputs, and support research data management. 
Backing this vast outreach, is the OpenAIRE platform, the technical infrastructure that is vital for pulling together and interconnecting the large-scale collections of research outputs across Europe.
OpenAIRE2020 will assist in monitoring H2020 research outputs and will be a key infrastructure for reporting H2020's scientific publications as it will be loosely coupled to the EC's IT backend systems. 
The EC's Open Research Data Pilot will be supported through European-wide outreach for best research data management practices and ZENODO repository, which will provide long-tail data storage. 
Other activities include: collaboration with national funders to reinforce the infrastructure's research analytic services; an Article Processing Charges (APC) Gold OA pilot for FP7 publications; novel methods of review and scientific publishing; a study and a pilot on scientific indicators related to open access; legal studies to investigate data privacy issues relevant to the Open Research Data Pilot; and international alignment with related repository networks.
Some of EIFL's key tasks include: 
Coordinating NOADs activities in Eastern Europe; 
Coordinating a Task on Horizon 2020 Open Access Policy and support providing the body of resources to facilitate the easy uptake and comprehension of the open access mandate to publications among a wide range of stakeholders (training materials, briefing papers, webinars for each target group, as well as chance to exchange ideas and good practice via OpenAIRE's social media channels); 
Providing support tools (guides, helpdesk, FAQs, information & dissemination material) and running a training programmes to showcase workflows specifically targeting projects (coordinators), funders (EC officers of all directorates, all levels) and institutions (research administrators and repository managers) for OpenAIRE compliance.
The OpenAIRE2020 project kick-off meeting took place in Athens on January 28-29, 2015 and EIFL Open Access Programme Manager Iryna Kuchma and EIFL Open Access Programme Coordinator Gwen Franck attended the event and facilitated the Eastern European NOADs discussions.
Learn more about EIFL's work within the OpenAIRE project here.