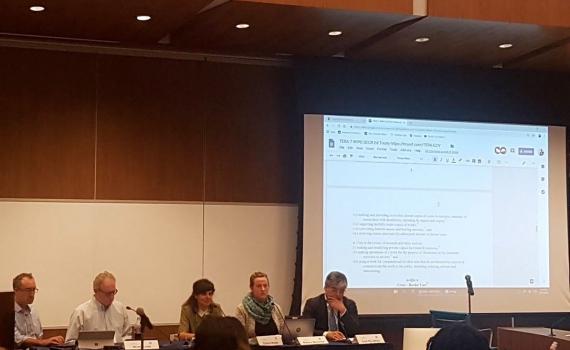 Posted: September 28, 2018
At the Fifth Global Congress on IP and the Public Interest, EIFL endorsed the need for a global treaty in support of the right to education.
The proposed Treaty on Copyright Exceptions and Limitations for Educational and Research Activities (TERA) was presented at a panel session led by Sean Flynn, Program on Information Justice and Intellectual Property, American University Washington College of Law, Nikola Wachter, Education International, Teresa Nobre, Communia, Luis Villarroel, Innovarte and Jonathan Band, Policybandwidth.
TERA sets out basic uses that should be permitted in the course of research, teaching, learning and creating educational materials, such as text and data mining, including images in assignments, performing a work in an educational context and including short works and excerpts of longer works in anthologies. Permitted uses should support online education and other digital technologies.
Timely intervention in the global debate on copyright law reform
TERA is a timely intervention in the global debate on copyright law reform, especially discussions at WIPO on limitations and exceptions for education as it builds on proposals by member states and takes into account recent WIPO-commissioned studies on education. It is hoped that governments will take this treaty proposal to WIPO to help advance the normative agenda for education that will contribute to achieving the right to education, as well as Sustainable Development Goal 4 Quality Education.
TERA complements work at WIPO on libraries, archives and museums, where EIFL has been working for several years with IFLA and other groups on a complementary instrument, a treaty for the benefit of libraries, archives and museums.
The library and education sectors are closely intertwined.
Good education at all levels depends on access to quality information resources to support teaching, research and lifelong learning. And it is usually a library that provides these resources - a university library, a school library, or a public library.
EIFL looks forward to continuing to work with the education community for an international legal framework that supports libraries, education and access to knowledge for everyone wherever they are in the world.
TERA is open for civil society endorsement until 4th October 2018.
Read about EIFL's work at WIPO here.