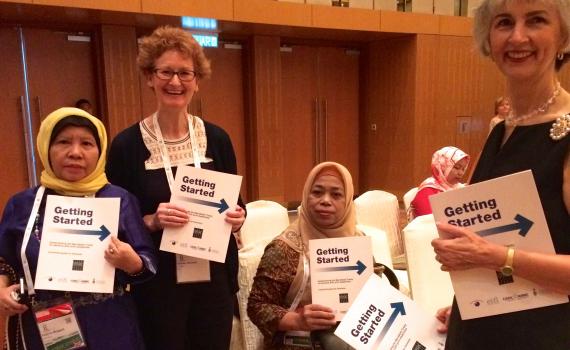 EIFL co-launched a new practical guide to the Marrakesh Treaty for persons with print disabilities during the International Federation of Library Associations and Institutions (IFLA) World Library and Information Congress that is taking place in Kuala Lumpur, Malaysia.
The new guide, titled 'Getting Started. Implementing the Marrakesh Treaty for persons with print disabilities. A practical guide for librarians', is mainly aimed at librarians in countries that have joined the Marrakesh Treaty, and where national implementation is completed or advanced.
"As work on the legal side was advancing in those countries ratifying the Marrakesh Treaty and making the changes required by the Treaty in their national law, we wanted to prepare for the next critical phase - the whole reason for the Marrakesh Treaty – to deliver material into the hands of print-disabled users," said Teresa Hackett, EIFL Copyright and Libraries Programme Manager.
Libraries play a key role in facilitating access to reading material for people who are blind or visually impaired, and the guide was conceived to enable staff in libraries of all types to take practical steps to start using the Marrakesh Treaty, and to make full use of their new rights under the Treaty.
The guide is jointly published by IFLA, the World Blind Union (WBU), EIFL, the Canadian Association of Research Libraries (CARL), and the University of Toronto Scarborough.
EIFL co-launched 'Getting Started' with Victoria Owen, University of Toronto Scarborough, editor of the guide. The launch took place on 27 August 2018 at WLIC Session 138 'Marrakesh Treaty in force - the role of libraries' that was organized by the IFLA section on Libraries Serving Persons with Print Disabilities.
The guide is available in English, French, Russian and Spanish.