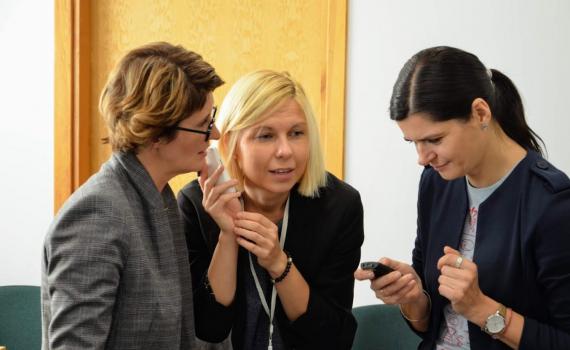 2019 was another great year for the Marrakesh Treaty for persons with print disabilities, confirming its place as WIPO's fastest moving and most successful treaty. Thirteen more countries joined the treaty in 2019, including two EIFL partner countries - Thailand and Zimbabwe. 
The treaty, adopted in 2013 by member states of the World Intellectual Property Organization (WIPO), now has a total membership of 88 countries worldwide. Sixteen of these - almost a fifth of the total number - are EIFL partner countries: Azerbaijan, Botswana, Ghana, Kenya, Kyrgyzstan, Lesotho, Malawi, Moldova, Thailand, Uganda, Zimbabwe, and five European Union (EU) member states, Estonia, Latvia, Lithuania, Poland and Slovenia.
A notable feature of 2019 was the coming on board of major content-producing countries such as New Zealand and the USA, which is the world's biggest provider of English-language texts in accessible formats, such as Braille, audio, large-print and digital accessible formats. They join other major content producers - Australia, the European Union and India - that had previously signed up to the treaty. EIFL congratulates all countries that have joined the Marrakesh Treaty. 
SUPPORTING LIBRARIANS TO IMPLEMENT THE TREATY
To support librarians in making full use of the treaty, in 2019 EIFL co-organized the first international workshop dedicated to operationalizing the Marrakesh Treaty among a regional group of libraries - Estonia, Latvia, Lithuania, Poland, Belarus and Russia. The workshop took place at the Lithuanian Library for the Blind (LAB) in Vilnius, Lithuania. 
All six countries had either completed or were taking forward implementation of the Marrakesh Treaty and they shared a common goal - to increase material in accessible formats, especially for Russian and Polish speaking clients. As a result of the workshop, practical mechanisms to exchange accessible materials were advanced, concrete plans for national implementation were drawn up, and a training model for implementing the Marrakesh Treaty in other parts of the world was established. 
We look forward to further work in 2020 supporting policy-makers and librarians in partner countries in making full use of treaty for the benefit of their communities.
background 
The Marrakesh Treaty helps to end the 'book famine' - the fact that only about 7% of published works are made available globally in accessible formats. It opens the doors to knowledge and education for the world's 285 million blind, visually impaired and print-disabled people, improving their chances of learning and gaining skills, working, earning incomes and participating fully in society. 
The treaty works by removing legal barriers created by copyright law. Countries that have joined the Marrakesh Treaty must create an exception in their national copyright law to allow copying of books and other printed works into accessible formats without having to ask permission from the copyright holders. It also creates an international legal framework that makes it possible for organizations - like libraries - in Marrakesh Treaty countries to share accessible format copies with other Marrakesh countries.
Find out more about EIFL's support for ratification of the Marrakesh Treaty in partner countries and implementation of the treaty into national law.