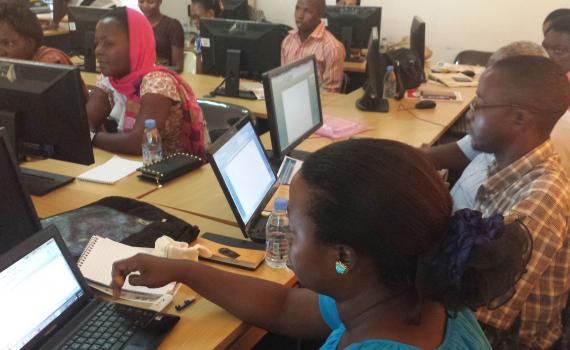 EIFL has joined a four-partner project to develop and test an innovative Information and Communication Technology (ICT) service for girls at Bagamoyo Public Library in Tanzania.
The 'ICT for Girls' Through Public Library project aims to improve the quality and relevance to the economy of secondary education in Tanzania by increasing girls' access to ICT and digital skills training. The project is working with public libraries because they are already recognized as safe, stable spaces for girls and young women to study and learn new skills.
The partnership is led by Invention and Technological Ideas Development Organization (ITIDO), supported by EIFL's Public Library Innovation Programme (EIFL-PLIP), Tanzania Library Services Board (TLSB) and the (slads.ac.tz/default.asp) School of Library Archives and Documentation Studies (SLADS). It is funded by the Swedish Programme for ICT in Developing Regions (SPIDER).
During the pilot period (2013/2014), the project will work through Bagamoyo Public Library, the only public library serving Bagamoyo District, which has a population of about 300,000. The project will work with five public and private boarding and day schools in the district, and test new public library ICT access and training approaches with 100 girls.
'This programme intends to bridge the information poverty gap. We aim to improve educational performance and living standards, and add value to the girls' lives. Girls will influence their parents and peer groups, including boys,' said Leonard Ngowo, an ICT tutor at SLADS.
'The partnership will be enhanced by ICT clubs coordinated by the public library. These clubs will provide a social space for discussion of innovative ICT ideas and services,' he added.
Baseline research conducted early in 2014 found that 80% of boarding school pupils and 96% of day school pupils do not currently use computers with the Internet, but that 87% would use the Internet at Bagamoyo Public Library if the library offered ICT access and training.
After equipping Bagamoyo Public Library with computers and an Internet connection, the project partners will initiate an ICT access and training programme for the girls. This programme will be used as the basis for research to determine how public library Internet access can support schools in meeting girls' ICT and other classroom learning needs, and empowering girls for life outside school and the future.
To stimulate discussion about the ICT access and training programme design, EIFL and the other project partners organized a two-day workshop in Bagamoyo in February to share EIFL-PLIP experiences of implementing successful innovative public library services for youth in other parts of Africa.
Over 20 people, including delegates from the project partners and the education department, teachers and librarians, attended the workshop.
The EIFL team included representatives of two innovative library services supported by EIFL-PLIP: Aaron Kuwornu, head of Ghana Northern Regional Library and Nyasha Sithole, ICT trainer at Masiphumelele Library in Cape Town.
Nyasha Sithole and Aaron Kuwornu both gave presentations about their libraries' ICT training and other programmes for youth. The workshop included a demonstration of ICT training in action, and included lively discussion about how public libraries can use digital technology to serve community skills and information needs.