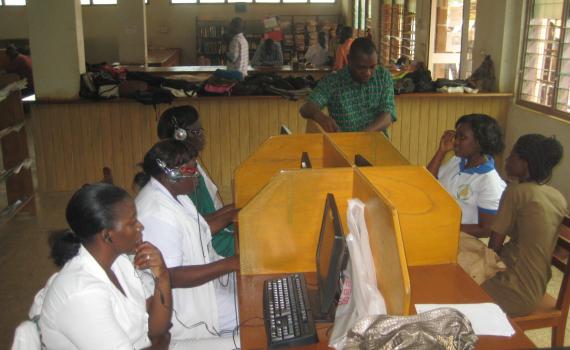 Northern Regional Library's Technology for Maternal Health Project for mothers-to-be in northern Ghana, which was initiated with support from EIFL's Public Library Innovation Programme (EIFL-PLIP), is to be scaled up to reach a wider area and to produce maternal health messages in local languages and in audio format.
The expansion follows receipt of a US$220,000 grant by the library's partner organization, Savana Signatures, from the funding agency STAR-Ghana. Savana Signatures, a non-governmental organization that promotes information and communication technology (ICT) for development in Northern Ghana, was one of 29 successful grantees out of 230 applicants.
'We are building on our experience with the library as we take this forward,' said Mr John Stephen Agbenyo, Director of Savana Signatures.
'These new areas – the need to translate the SMS into local languages for women who do not understand English, and the need to create audio messages for non-literate women – emerged out of the partnership with the library. We are applying lessons learnt through our work with the library in other districts,' he said.
The expanded service will be delivered in four districts in Northern Ghana: Tamale, Yendi, Savelugu and Tolon.
Northern Regional Library, in Tamale, launched the Technology for Maternal Health service in 2012. The service includes free ICT training and access to a maternal health corner in the library, where health-workers, mid-wives, and members of the public can research maternal health issues. It also includes development and dissemination of maternal health messages to pregnant women via mobile phones.
'The library's health corner and resources will be available to the expanded project, and Northern Regional Library will serve on our monitoring and evaluation team,' said Mr Agbenyo.
STAR-Ghana is funded by the international government agencies, DFID (UK), DANIDA (Denmark), the European Union and USAID (USA).