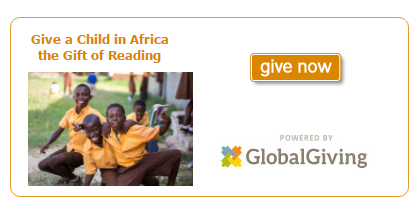 Thank you to everyone who has donated to our 'Give a child the gift of reading' project - with your support, we have raised USD2,645 so far.
There's still time to give! We're extending our fundraising campaign to the end of the year to reach our target of USD6,000 - that's 18,000 brand new books for public libraries in Ethiopia, Kenya and Uganda.  
Reading opens a world of opportunity. It empowers you for the future, helps you finish school, get a better job and take part in your community. Public libraries play a big part in the lives of children from poor families - they are often the only places where children have a chance to read. Every afternoon, children run to their local libraries after school, to read stories, to study and do homework, secure in the knowledge that they will be helped by dedicated librarians. ​But what happens when the library does not have books? The children are disappointed and the librarians are powerless to help them. 
Your gift will help change children's lives
Your gift will help public librarians to fill the shelves with new children's books by popular African authors who write stories that embrace the children's real-life experience and culture. They will be able to help the children to read and understand the books.
With the gift of reading, children will be able to finish school, study further and get better jobs. The future will be brighter - for the children, their communities and their countries.
Thank you for your support!