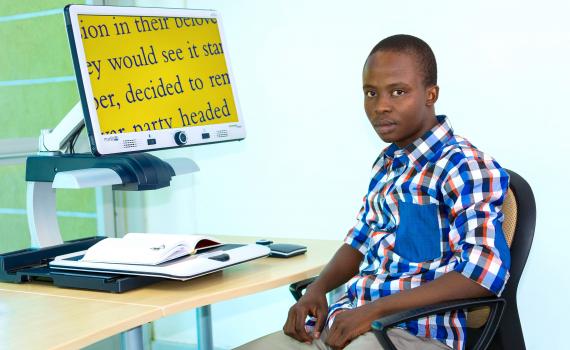 Posted: December 13, 2018
Access to knowledge for millions of people around the world who are blind or otherwise print disabled took a giant leap forward in 2018 with 42 more countries joining or taking steps to join the World Intellectual Property Organization (WIPO) Marrakesh Treaty for persons with print disabilities.
The upsurge in ratifications in 2018 brings the total number of countries worldwide that have joined the Marrakesh Treaty since its adoption in 2013 to 73.
THE 2018 UPSURGE
On 1 October 2018, the European Union (EU) - comprising 28 member countries - ratified the Treaty. When the treaty enters into force in the EU on 1 January 2019, all 28 EU member states will be able to copy printed works into accessible formats, like braille, audio and large print, and share these with each other and with non-EU countries that are party to the treaty.
On 10 October 2018, the USA adopted domestic legislation (the Marrakesh Treaty Implementation Act) that opens the way for the US to join the treaty. The next step - expected soon - is for the US to formally deposit its instrument of ratification at WIPO in Geneva.
In addition, 13 other countries joined the Marrakesh Treaty in 2018. Among the 13 are five EIFL partner countries: Azerbaijan, Ghana, Lesotho, Moldova and Uganda. Add to this the five EU member states that are EIFL partner countries - Estonia, Latvia, Lithuania, Poland, and Slovenia - and the grand total of EIFL partner countries joining Marrakesh in 2018 is 10.
Marrakesh is "the fastest moving of the WIPO treaties, not only in the past year, but most probably in the history of the Organization." - Francis Gurry, Director General, WIPO Assemblies, 24 September 2018.
EIFL SUPPORT FOR MARRAKESH
EIFL actively supported negotiations over five years at WIPO in Geneva, and participated in the Diplomatic Conference in Marrakesh that adopted the Marrakesh Treaty in 2013.
Since then, EIFL has been working tirelessly to encourage its ratification and implementation in partner countries, raising awareness among librarians and policy-makers, supporting advocacy efforts, organizing seminars, responding to consultations, providing technical assistance and other practical information.
EIFL is proud that 14 partner countries are among the 73 WIPO member states  that have joined the Treaty since 2013. They are Azerbaijan, Botswana, Ghana, Kenya, Kyrgyzstan, Lesotho, Malawi, Moldova, Uganda, and five EU member states, Estonia, Latvia, Lithuania, Poland and Slovenia.
PUTTING THE TREATY INTO PRACTICE
To support the work, EIFL has produced many popular, multilingual guides  to the Marrakesh Treaty to assist librarians in advocating for adoption of the treaty in their countries, as well as model provisions for implementation of the treaty into national law. We have also co-authored policy briefings, infographics and position papers with partner organizations.
The most recent guide is 'Getting Started: Implementing the Marrakesh Treaty for persons with print disabilities', a joint publication with four partner organizations: the International Federation of Library Associations and Institutions (IFLA), World Blind Union (WBU), Canadian Association of Research Libraries (CARL) and the University of Toronto Scarborough.
'Getting Started' is aimed at libraries in the growing number of countries that have joined the Marrakesh Treaty, and where national implementation is completed or advanced. It supports library staff to take practical steps to start using the treaty, and to develop services delivering books and other materials into the hands of print-disabled readers.It is available in English, French, Russian and Spanish.
"With Marrakesh set to enter into force in major content-producing countries in 2019, EIFL is working to ensure that people in developing countries, where the majority of blind and visually impaired people live, can benefit," said Rima Kupryte, EIFL Director. "It's a very exciting time because it brings into focus what Marrakesh was all about - to get books into the hands of blind people. We will encourage libraries in EIFL partner countries to make full use of their new rights and responsibilities."
HOW THE MARRAKESH TREATY CHANGES LIVES
The Marrakesh Treaty has the potential to fundamentally change the lives of the world's 285 million blind, visually impaired and print-disabled people, opening the doors to knowledge and education, increasing the ability to earn incomes and to participate fully in society. It does this by helping to end the 'book famine' - the fact that only about 7% of published works are made available globally in accessible formats, like braille, audio, large print and digital accessible formats.
The treaty works by removing legal barriers created by copyright law. Countries that have joined the Marrakesh Treaty must create an exception in their national copyright law to allow copying of books and other printed works into accessible formats without asking for permission from the copyright holders. The treaty also creates an international legal framework that makes it possible for organizations - like libraries - in countries that have ratified the treaty to share accessible format copies with other countries that have joined the Treaty, while putting in place safeguards for rightsholders.
Find out more
Find out more about EIFL's support for ratification of the Marrakesh Treaty in partner countries and implementation of the treaty into national law.