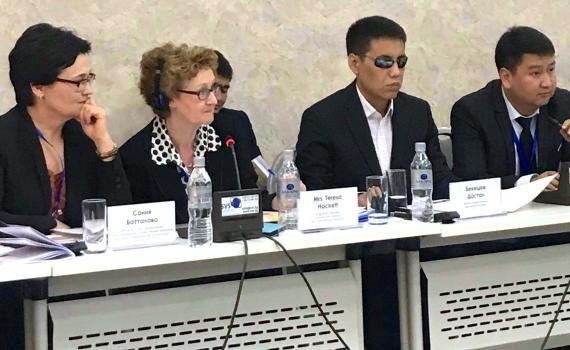 Posted: February 21, 2020
EIFL is delighted to be shortlisted for the 2020 ABC International Excellence Award for Accessible Publishing, which recognizes outstanding leadership and achievements in advancing the accessibility of commercial e-books and other digital publications for persons who are blind, visually impaired or otherwise print-disabled.
The Accessible Books Consortium (ABC) is a public–private partnership led by the World Intellectual Property Organization (WIPO). 
This year's finalists were selected by an expert jury composed of representatives of authors, publishers, standards bodies, and organizations representing people who are visually impaired, as well as accessibility experts.
EIFL is shortlisted in the category, Initiatives, with two other organizations: Fondazione LIA and Kalimat Foundation for Children Empowerment. The winners will be announced during an awards ceremony to be held at the London Book Fair on 10 March 2020.
Advancing access to knowledge for print-disabled people
In 2013 member states of WIPO adopted the Marrakesh Treaty for persons with print disabilities. EIFL's commitment to delivering on the goal of the treaty, which is to alleviate the acute shortage of books for millions of blind and visually impaired people, is driven by our vision of a world in which all people have the knowledge they need to achieve their full potential. The Marrakesh Treaty will help to change lives and improve life chances for people with print disabilities, especially those living in developing and transition economy countries.
Since 2013, EIFL's Copyright and Libraries Programme has built partnerships between libraries and governments in partner countries in Africa, Europe and Asia to encourage speedy ratification and national implementation of Marrakesh. To date, EIFL advocacy has contributed to 18 countries joining the treaty.
From the start, EIFL aimed to provide practical tools so that librarians, who have a key role to play in the success of the treaty, could quickly understand the benefits and how it can help transform information services to users with print disabilities. To support this goal, we developed the first practical guide for libraries, now available in eight languages (Arabic, English, French, Lithuanian, Nepali, Serbian, Spanish, Russian), on making the most of the new opportunities enabled by the treaty. 
As countries began to implement Marrakesh, in order to demonstrate the treaty in action, in 2018 EIFL facilitated the first international transfer of accessible books in Kyrgyzstan, in cooperation with the University of Toronto Libraries Canada, and the Daisy Consortium. And in 2019, we co-organized the first international workshop dedicated to operationalizing the treaty among a regional group of libraries -  Estonia, Latvia, Lithuania, Poland, Belarus and Russia - with a shared need for accessible material in the Russian and Polish languages. The workshop format and materials will be used for future workshops in other countries and regions to enable the sharing of best practices and experiences.
EIFL is honoured to be shortlisted as a finalist for the 2020 ABC International Excellence Award for Accessible Publishing. We look forward to attending the award ceremony at the London Book Fair, and to joining the other finalists in celebrating significant advances in providing access to reading material for people with print disabilities wherever they are in the world.
Find out more about how EIFL supports access to knowledge for blind and visually impaired people.