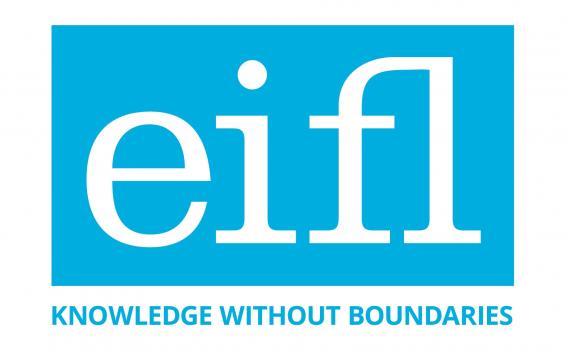 Posted: February 22, 2023
EIFL has lots to celebrate this year - 2023 is the 20th anniversary of EIFL as an independent organization and also the 20th anniversary of the EIFL Open Access Programme. 
We'll be celebrating these milestones at the EIFL General Assembly (GA) in Vilnius from 17 to 21 September. This will be our first in-person GA since the start of the COVID-19 pandemic. After three years of online GAs, using Zoom, it will be great to connect with our library consortium coordinators and publisher partners in-person again.
20 years of EIFL as an independent organization
On 29 January 2003, with start-up funding from the Open Society Institute (OSI), we registered as a not-for-profit organization, Stichting eIFL.net, in the Netherlands, with a mission to provide access to knowledge and a vision of a world in which people have the knowledge they need to fulfill their potential.
EIFL had been launched four years earlier, in 1999, as an initiative of the Open Society Institute (OSI). The initiative aimed to fill in gaps in access to social sciences and humanities journals by negotiating discounted prices for country-wide access to EBSCO databases in 39 countries where the OSI had offices, and by building library consortia for long-term sustainability of access to e-resources. 
Our registration in 2003 marked the beginning of expansion to include new areas of work that are of fundamental importance to ensuring people have access to knowledge. Over the years, we also expanded to include more developing countries in different regions of the world, and today we work in collaboration with library consortia and libraries in 52 countries in four continents. 
20 years of the EIFL Open Access Programme
In May 2003 we established the EIFL Open Access Programme (EIFL-OA). The programme removes barriers to knowledge sharing by facilitating the development and implementation of  open science policies and infrastructures and by building capacity to develop policies and to launch and sustain open access repositories and journals. Through practical training, EIFL-OA supports researchers and their institutions to integrate open science into their daily workflows. To broaden and extend the reach of open science knowledge and skills, the programme trains open science trainers. 
In addition to celebrating 20 years of EIFL-OA with our partners at the GA in Vilnius, we'll be sharing information about the programme and its achievements during the year. Watch our website and follow us on social media (Facebook, Twitter - @EIFLnet) for updates.
More information