Online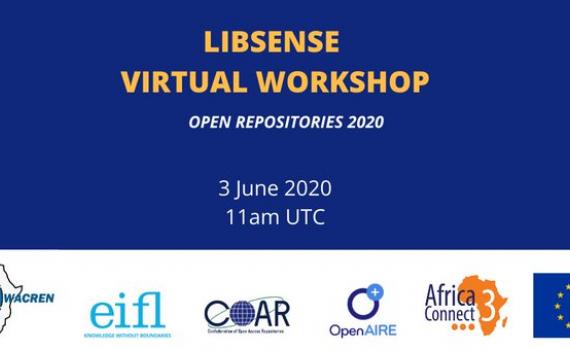 Join this virtual LIBSENSE workshop and take part in discussions about strategies for open access and open science policy and infrastructure development in Africa.
The workshop brings together the African community of open access repository managers; open science and open access advocates, and others involved in supporting and providing open access services. It is co-organized by WACREN, UbuntuNet Alliance, ASREN, EIFL, COAR, AfricaConnect 3, OpenAIRE and GÉANT. The three main topics to be covered are:
Open access and open science policies and repositories: what works and what doesn't; 
Repository infrastructure and services: how to build cohesiveness across layers of local, national and regional services; and
Communities of practice: how to strengthen open science communities in Africa.
The objectives of the workshop are to raise awareness about the LIBSENSE Initiative, and the initiative's past activities and future plans; to discuss strategies for open access and open science policy development, and models for national and regional approaches to open science infrastructures. 
The agenda is as follows:
Introduction to LIBSENSE
What is happening at the national level in different countries? Open science policies, repositories, community building, national coordination
Break out groups in four languages - Arabic, English, French and Portuguese - that will cover three topics:

Open access, open science policies and repositories: If you have a policy, what really did not work upon implementation? How can that be addressed? Do you plan any policy activities (institutional/national) and how can you collaborate on this? 
Repository infrastructure and services: Does your institutional repository connect with national, regional and international services? If so how? What are the barriers? What is the status of your national/regional repository discussions? What are the roadblocks?
Communities of practice: By what mechanisms do you interact with your peers/colleagues in your country? How can that be improved?

Report back
Next steps
The workshop is a one of a series of virtual Open Repositories 2020 (OR2020) meetings taking place from 1-4 June 2020 in which the open repository community will address current debates, innovations and advancements in open repositories. See the full OR2020 meetings programme and register for other events here.