Event Date
: 12 Oct 2020 - 16 Oct 2020
Online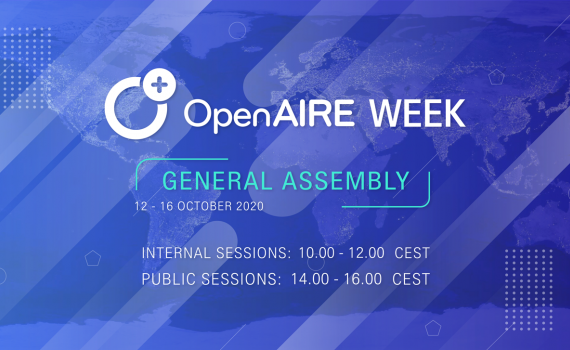 This year OpenAIRE Week is going virtual, and is open for all. Do you want to know more about OpenAIRE on the European and global stage? About OpenAIRE's role in EOSC? About Open Science Gateways, and about OpenAIRE services for content providers and for researchers? Tune in and find out!  
The week includes the OpenAIRE General Assembly and will offer a mix of internal meetings in the morning for OpenAIRE partners, and external webinars, open for all, in the afternoon.  EIFL is a partner in the OpenAIRE project and will be the virtual host of the OpenAIRE General Assembly. Iryna Kuchma, Manager of the EIFL Open Access Programme, coordinates the OpenAIRE Community of Practice for Training Coordinators and is chairperson of the OpenAIRE Training and Support Standing Committee. 
The external sessions will take place every day from 14:00 to 16:00 CEST. Registration is required, and you can register for each session individually.
October 12: 14:00 - 16:00 CEST: Kick-off: OpenAIRE on the European stage. During this session we will provide an overview of OpenAIRE, its role in EOSC and vital services it will provide in the EOSC landscape. OpenAIRE works on three levels, providing policy, services and training for Open Science, a critical element of making EOSC work. The OpenAIRE Legal Entity, AMKE will also be introduced. Register for this session.
October 13 - 14:00 - 16:00 CEST: Panel: European - National - International alignment. The panel, moderated by Iryna Kuchma, will examine the shared building blocks for Open Science, around policy and infrastructure and identify key takeaways. Register for this session.
October 14 - 14:00 - 16:00 CEST: A user journey in OpenAIRE PROVIDE services and interoperability guidelines implementation. This session aims to engage with the OpenAIRE content providers community, showcasing the services and tools available through the PROVIDE dashboard and the recent developments from the research graph, and sharing use cases from the community. The OpenAIRE guidelines updates and implementation will be discussed and examples of national and institutional level activities will be presented through repositories and CRIS use-cases. Register for this session.
October 15 - 14:00 - 16:00 CEST: OpenAIRE for researchers, and beyond. This session will explore OpenAIRE's Open Science tools and services such as ARGOS for creating machine actionable Data Management Plans, the Zenodo repository and how it operates during the COVID-19 outbreak, Amnesia data anonymization tool, Explore discovery portal, Guides for researchers and citizen science activities. Register for this session.
October 16 - 14:00 - 16:00 CEST: Building Open Science Gateways to open and linked research outcomes; During this session we will present the OpenAIRE services that support research communities, initiatives, and infrastructures at implementing and monitoring the uptake of Open Science principles. Register for this session.
Further information and details of OpenAIRE Week and each session are available here.