Online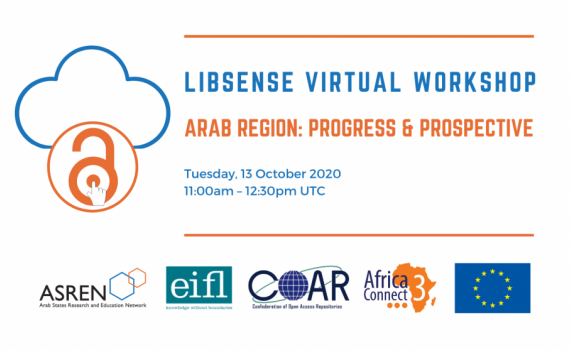 This 90-minute workshop continues and follows up on the LIBSENSE-III Workshop held in Tunisia from 26 - 28 April 2019. Repository managers, advocates and other open access and open science stakeholders (libraries and library consortia, content and research data providers, National Research and Education Networks - RENS) are welcome to attend the workshop.
Iryna Kuchma, Manager of the EIFL Open Access Programme, will be among speakers from WACREN (the West and Central African Research and Education Network), COAR (the Confederation of Open Access Repositories), ORCID and ASREN (the Arab States Research and Education Network).
Date and time: Tuesday, 13 October 2020, 11am - 12.30pm UTC
To register: Click here to register
The main topics to be covered are:
Introduction and highlight on ASREN's role.
LIBSENSE and open science initiatives.
Infrastructure, capacity building and Policies Working Groups.
COAR as a global open science supporting initiative.
Open access in the Arab region.
Academic libraries' future role in the open access era.