Paris, France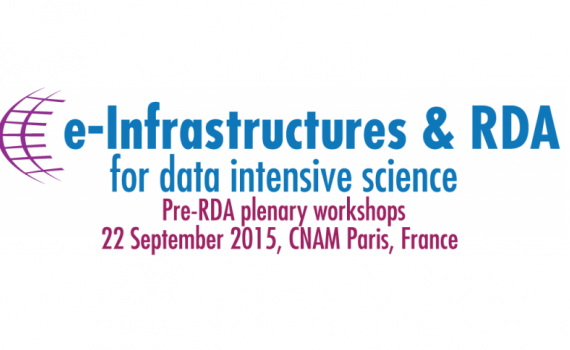 EIFL Open Access Programme Manager Iryna Kuchma will take part in the Data and computing infrastructures for open scholarship workshop - pre-RDA (Research Data Alliance) event within "e-Infrastructures & RDA for data intensive science" stream.
Open scholarship requires the redesign, enhancement or adaptation of e-Infrastructures used for conducting research and disseminating research results. Such e-Infrastructures should cover all functions related to research information (registry, certification, intelligent discoverability, linking, preservation, etc) and how open scholarship is applied, and how to facilitate the reproducibility of research results through proper data management practices.
The aim of this workshop is to deconstruct Open Scholarship into its basic elements and to see how these match e-Infrastructural components, how to reuse or repurpose existing services and to identify missing ones, how top-down approaches are open by design (and meet the bottom-up initiatives emerging around the globe). This workshop aims to identify strategic directions through concrete recommendations on ways to foster the creation of these elements and their integration towards a seamless environment for open scholarship  that best fits researchers' needs.
It is organized by the OpenAIRE - a European Commission-funded initiative that supports implementation of the Horizon 2020 open access mandate for publications and its Open Research Data Pilot. OpenAIRE also assists in monitoring Horizon 2020 research outputs, and provides the main infrastructure for reporting Horizon 2020's scholarly publications.
The OpenAIRE infrastructure interacts with a wide range of research output sources, and interconnects research results (publications and data), linking them to the processes that produced them (scientific software, workflows, services, instruments) and releasing them for everyone to see, reuse, and reproduce.
BACKGROUND
EIFL is one of the 50 OpenAIRE2020 project partners working on this large-scale initiative which aims to promote open scholarship and substantially improve the discoverability and reusability of research publications and data.
Read more about EIFL's involvement in the OpenAIRE2020 project.