Online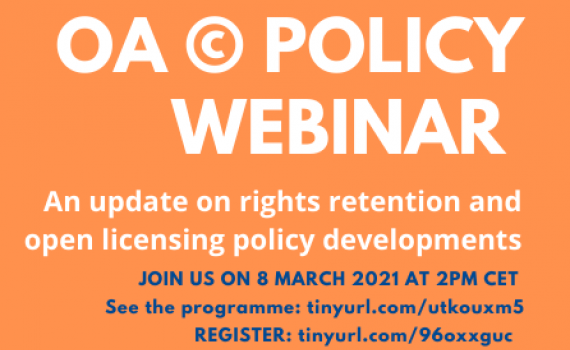 Webinar: This EIFL and SPARC Europe webinar will provide copyright policy updates from international and national policy-makers and discuss policy alignment actions to enable researchers to disseminate their research as widely as possible.
Date and time: 8 March 2021, 14:00-16:00 CET
Registration: Register here.
The webinar targets open science policymakers, research funding organization and research performing organization managers, librarians, repository managers and academic institutional copyright experts. Speakers include Vanessa Proudman (SPARC Europe), Johan Rooryck and Sally Rumsey (cOAlition S), Alea Lopez de San Roman (European Commission), Niamh Brennan (Trinity College Dublin) and Susan Reilly (University College Dublin), Arjan Schalken (UKB - a partnership of Dutch University Libraries and The Royal Library of the Netherlands (Koninklijke Bibliotheek), Chris Banks (Imperial College London) and Brigitte Vezina (Creative Commons).  
See the programme and further details.