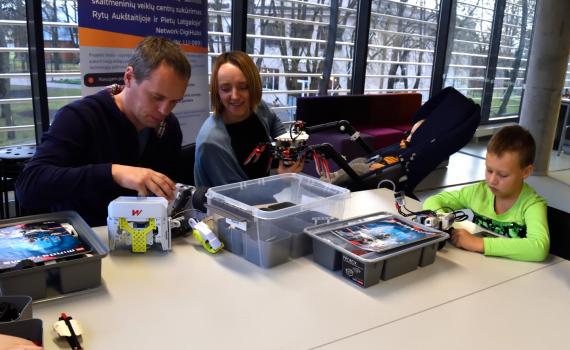 Children, moms and dads, grannies and grandpas are all learning together in Utena 'A. & M. Miskiniai' Public Library's Family Digital Activity Centre. 
Opened in 2019, the centre is equipped with advanced digital hardware and software. In the centre, librarians offer free courses in skills like 3D design and printing, computer coding for robotics, operating drones and much more. 
The Family Digital Activity Centre is part of a four-library project started with funds from the European Union's Latvia-Lithuania Cross-Border Cooperation Programme, which promotes economic and social wellbeing in the border regions of Southern Latvia and Northern Lithuania. 
"We live in a part of Lithuania where most people know how to use computers and the internet for daily purposes, but very few people understand or can use advanced technology. Opportunities to learn advanced technology skills are limited. Our programme provides these opportunities," said Laima Lapiniene, who is head of 'A. & M. Miskiniai' Public Library's Information and Innovation Department. 
"Also, in most training programmes, people of different ages generally learn separately. In our programme, people of all ages and walks of life learn together. By developing family and intergenerational learning our library is helping to build a more cohesive community," she added.
A TWO-LEVEL CURRICULUM
Learners follow a curriculum structured into two levels. The library developed the curriculum in partnership with a technology company that also built the capacity of librarians to design lessons and to conduct training in which the trainer creatively engages participants in practical activities. 
Level 1 is a two-hour introductory programme in which learners develop an understanding of the functions and uses of advanced digital technology, and learn practical skills by using interactive tools like virtual reality bikes, motion sensitive Kinect devices, 3D modelling software and robotics coding programmes. The aim is to build confidence and to encourage learners to continue to the next level.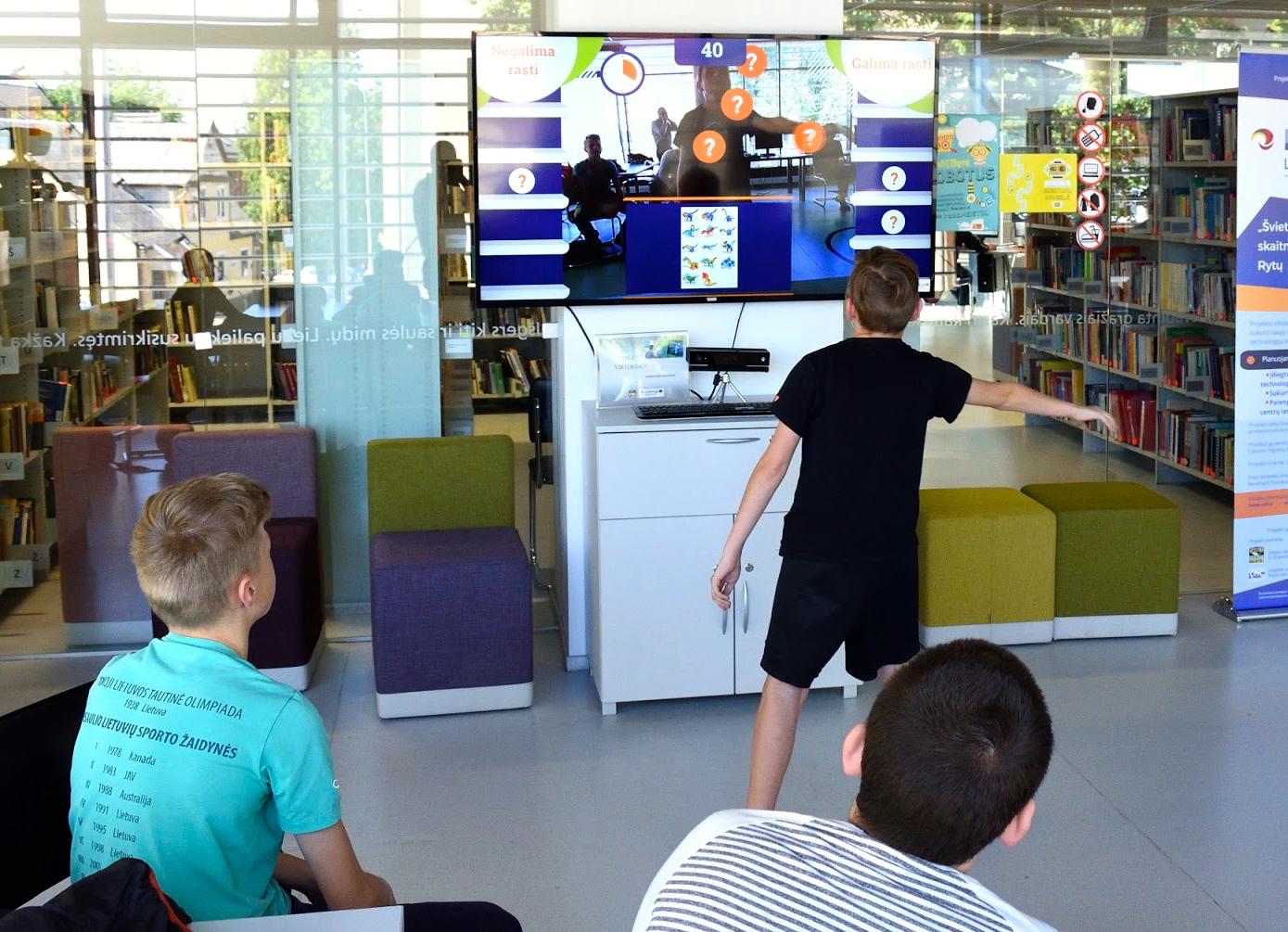 "I was very surprised that you can scan an object with a 3D scanner and then print it out. We printed out a lost chess piece," said grandmother Julija, whose grandson is also learning 3D printing skills at the library. 
Level 2 comprises three modules, each 32 hours long, concentrating on different topics: 
robotics, including programming and construction skills; 
3D design and printing, and 
a module titled STEAM (science, technology, engineering, arts and mathematics) in which interactive technology is used to develop learners' programming and technical skills including creating apps, using microcomputers and operating drones. 
"Even though I have a degree in technology, I had never tried engineering before the library's course. After completing it, I started an extracurricular group in the library for young people where I teach 3D design. For me, the course has provided both new knowledge and additional income!" said a young mother, Gintare Katine.
So that learners can refresh their knowledge and skills, the library publishes learning materials online. 
LEARNERS AWARDED OPEN BADGES
Learners who complete levels and modules are awarded open badges, which are a way of recognizing learning and recording achievements in the digital environment. "The badges can be shared in social and professional networks, and are useful for the learners' career paths. They challenge the participants and make learning a more exciting experience," said Laima.
In just one year, 3,128 people - 1,230 adults and 1,898 children completed the first level. Almost half of the learners (1,405 people) continued to the second level. The most popular course was robotics, with 525 learners; next was the STEAM module, with 478 learners and 3D programming attracted 402 learners. 
"It was the first time when I was learning together with my students. Usually, it is me who teaches! I had never designed or used a robot before. It appears not to be that complicated - now I will apply Bee-bot in my own lessons," said Aušra, a teacher.
Read about more innovative public library services supporting education of children and adults. PLIP-EDUCATION