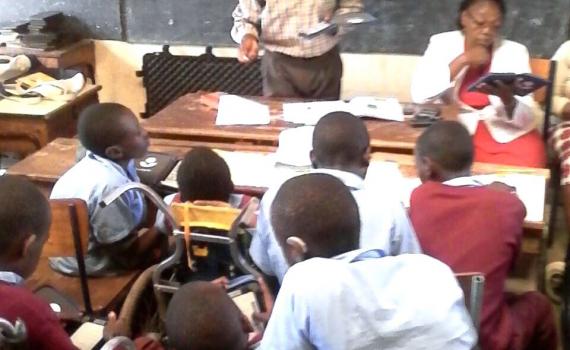 Children who attend rural schools, children with disability, poor children living in slums and children in young offenders' institutions are accessing educational content on tablet computers as a result of Kenya National Library Service (KNLS) Thika Public Library's outreach service.
Inclusion is the core value of the service, which takes tablets pre-loaded with educational content to children who cannot come to the library.
Thika is a rural industrial town in central Kenya. The library is situated just outside the town, and serves agricultural and urban communities, including many children who for various reasons, for example, distance, affordability of transport and disability, cannot come to the library, and who do not have access to computers or the internet.
"The service reduces the digital divide within our community, between these children and others," said Miriam Mureithi, librarian at KNLS Thika Public Library.
TECHNOLOGY DESIGNED TO OVERCOME CHALLENGES
The library's outreach service for children travels to different places in and around Thika bringing Kio Kits. Designed in Kenya for use in developing country contexts, where electricity and internet are unreliable or non-existent, the Kio Kit comprises a protective case with built-in wireless and electric charging facilities that can charge 40 tablet computers simultaneously. Once charged, the tablets can be used for eight hours.
The pre-loaded educational content is related to the Kenyan school curriculum and comes in formal and fun formats - there are books and reference works, assignments, games and videos.
Librarians working in the outreach programme teach the children to use the tablets to study and do homework and to practice their reading skills – or just to have fun. Librarians also use the kits in children's book clubs and storytelling sessions.
'THE SERVICE HAS CHANGED HOW THE LIBRARY IS VIEWED'
"The service has changed how the library is viewed," said Mureithi. "We are no longer only a place where people can borrow a book or sit and read!"
The service was launched in February 2016. By December, just 10 months later, the service had reached over 10,000 teachers and children, including many children living with disability; children from slums and children from rural schools.
"Learning with tablets is good. The learning environment on the tablets enables us to learn more," said Yvonne Nyambura, aged 12, a student at Thiririka Primary School, which serves a rural community.
"I am very happy because I have never seen a tablet!" Blessings Nyambura, aged seven, from Mugumo-ini Primary School told librarians.
"The vibrancy and motivation of the children using the tablets makes a librarian smile!" said Mureithi. 
EDUCATION