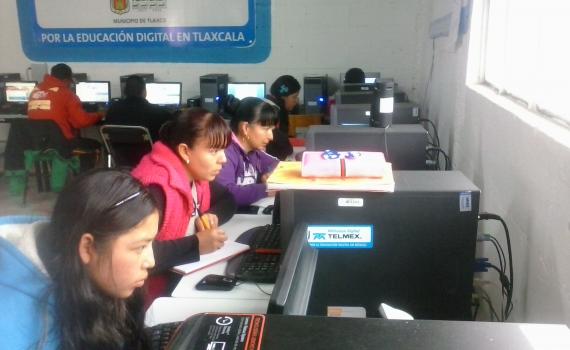 The Serrano Carmona family, father Lorenzo, mother Maribel and their two daughters aged 11 and 9, are learning many new skills together – including baking and cake design – because they plan to start a family bakery in future.
The opportunity for family learning is offered by Public Library 'Victoria Dorantes' No. 382, which serves the Atotonilco community in Tlaxo municipality in south-central Mexico. The community is rural, and most people earn a living from livestock and crop farming.
The library is pioneering a distance education programme titled 'Back to school for better family learning'. Their aim is to help parents improve their knowledge and to create a positive learning environment in families, so that parents can help their children succeed at school.
Partners support and sustain the service
The library's main partner is the Tec de Monterrey, a technical university which develops content and administers the online courses. The university's distance adult education programme includes over 150 subjects.
Another important partner is the Education Department of the State of Tlaxcala, which provided computers and internet connections for the library, contributes to maintenance of the equipment, and is paying the programme coordinator's salary.
Online courses relevant to parents' daily needs
"At the moment, most of the responsibility for education rests with teachers and schools. But parents' involvement in education is essential, so that they can support their children. Therefore, to attract parents, we selected courses that are relevant to their daily practical needs," said Ms Monica Herrera Sosa, head of Public Library 'Victoria Dorantes' No. 382.
The strategy has worked. Over 40 parents have enrolled in theoretical and practical skills courses at the library.
The most popular courses, says Ms Herrera Sosa, are computer and internet skills. However, more adults and children are now also registering for the other courses the library is offering, namely:
Family health and First Aid;
Understanding children's education, personal development and building positive family relations;
Literacy and writing, and
Financial management, including budgeting and saving for the future.
MORE PUBLIC LIBRARIES SUPPORTING EDUCATION
Read about more innovative public library services that support education of children and adults. PLIP-EDUCATION