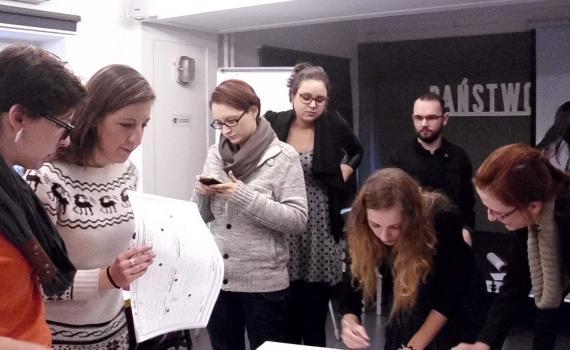 BACKGROUND
Open access (OA) is gaining popularity among Polish researchers, but it has not yet been promoted well among students. Students can benefit from OA on many levels and can see improvements in their academic work quality when OA is practiced.
OVERVIEW
The project aimed to raise awareness of OA among students in Poland and launch an advocacy website. It was the first OA project targeting students in Poland.
The project was implemented by Centrum Cyfrowe, Fundacja Projekt: Polska in partnership with the following organizations: The Citizens of Science, University of Warsaw Library and Polish Culture Institute at Warsaw University.
Media partners included Tytul Ujednolicony and Bibliosfera.net. Students organizations included: Opener Initiative, Student Scientific Group of Intellectual Property at the University of Warsaw, (libertasetlex.wpia.uw.edu.pl) Libertas et Lex Scientific Group and Scientific Group of Library Science Nicolaus Copernicus University in Torun.
MAIN ACTIVITIES
The project consisted of a series of workshops and a promotional campaign focused on the student community – representatives of students councils, journalists from student media, student organizations working in the field of law and young researchers (PhD candidates).
Developed promotional materials on OA targeting students.
Launched an OA advocacy website.
TIMELINE
June 2013 - March 2014.
ACHIEVEMENTS
OA advocacy website was launched:

In collaboration with leading Polish OA advocates a website Free the Science (UwolnijNauke.pl) was launched, which is a knowledge base on OA for students, librarians, researchers, and publishers. With the students' support a toolkit about the basics of OA in Polish has been created. It is a collection of materials which includes the following: a presentation on the most important issues of OA, a short animation movie, a brochure, posters, bookmarks and social media posters. All the materials are available under Creative Commons Attribution license, so that everyone can share and remix them to explain why OA is so essential for everyone.

Built a community of the most active students

who drive the bottom-up decision-making processes at their universities. Over 50 graduate and undergraduate students – representatives of student leadership organizations and scientific groups – from universities all over the country took part in series of workshops. As a result, institutional OA advocacy groups have been established, e.g. Opener Initiative at Warsaw University - a scientific group promoting OA among students and researchers at the Institute of Applied Social Sciences at Warsaw University. The project has successfully engaged undergraduate students and young researchers to collaborate with other students and academic librarians. The voice of students became more visible in the debate on scientific communication in Poland.
Launched a platform for OA monographs: To celebrate OA Week 2013, the OA monographs platform Open Science Library (Biblioteka Otwartej Nauki) was launched, which provides tools and a platform for publishing OA monographs. The platform currently has over 400 OA scholarly monographs and has been co-funded by the National Audiovisual Institute and the Ministry of Culture and National Heritage of the Republic of Poland.
International recognition: The project was short-listed to the final rounds of World Summit Youth Award and European Youth Award – an annual competitions for outstanding digital and social innovating solutions.
Read the case study containing key achievements, strategies, tactics and tools from this EIFL-funded project here.
PROGRESS
"Training the trainers for Open Access (OA) and Open Science" was a follow-up project supported by FOSTER (Facilitate Open Science Training for European Research) and implemented in October 2014-May 2015.
10 OA trainers have been trained during the workshops hosted by Centrum Cyfrowe in October 2014 in Warsaw. Trainers discussed and created scripts for running OA workshops for different academic groups (all of them are available online and ready to use under Creative Commons license).
All of the trainers will host their OA workshops in their universities/libraries during 2015.  
EIFL is continuing to support OA, open research data  and open science in Estonia through the FOSTER (Facilitating Open Science Training for European Research) and OpenAIRE (Open Access Infrastructure for Research in Europe) projects.