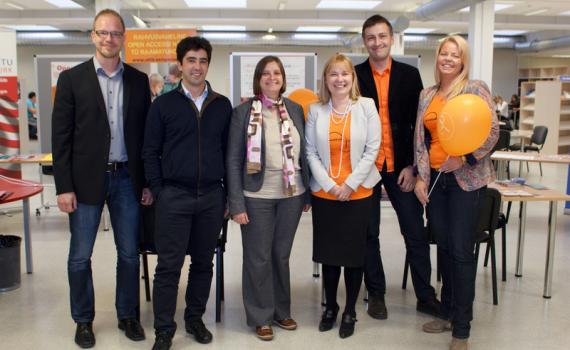 BACKGROUND
Since 2009, the University of Tartu Library  (UTL) has been leading open access (OA) initiatives in Estonia. In 2011 and 2013 EIFL supported (UTL) in a number of advocacy and awareness raising activities that led to more scholarly content and research being made available to the world. It also launched a website that provided information about OA in Estonian.
At the time, several institutions in Estonia had OA institutional repositories, but OA publishing was less common. In 2011, UTL initiated a national level discussion about OA among different stakeholders and contributed to the development of a positive brand for the UT OA institutional repository (see the case study here).
In 2012 UTL began a successful collaboration between the library and the University of Tartu Press (UTP) to promote and implement OA publishing in the university. As a result, all monographs published by the UTP have been made available in OA.
Also that year, due to UTL's advocacy, the Estonian Research Council required making the articles, produced from publicly funded research, available for everyone. This indicates that there has been a significant change in the principles for giving out research grants in Estonia. However, a clear national OA policy has not been developed yet.
OVERVIEW
The new 'Open access and open data at Tartu University' project built on previous open access work in the country. The aim was to continue to formulate national OA policies and broaden OA discussions to include opening access to research data. The project also focused on educating researchers about the benefits of publishing in open access and making more research output available in the UTL repository. The case studies resulting from the projects reveal impressive first-time achievements and will help increase the availability of research literature and data.
MAIN ACTIVITIES
Discuss a national OA policy
Raise awareness on open research data and opportunities it offers for creating an effective semantic web by linking publications and research data that are openly available
Raise awareness on publishing OA journals (via UTL OJS platform) and OA monographs (capitalizing on a strong partnerships with the UT press and OAPEN)
Make research output available in the UTL repository
Timeline
July 2013 - January 2014.
Achievements
Policy change.

OA principles have been added as underlying basis of the national Research Development and Innovation (RD&I) strategy "Knowledge Based Estonia 2014-2020".

An infrastructure set for researchers to share their open research data.

 UT joined DataCite and received funding from the Estonian government  to improve the quality of research by enabling people to find, share, use, and cite research data (e.g. assign unique DOI numbers to data sets). And UTL has started developing a new web based workflow through which researchers can publish their data sets and make them openly available.

UTL has built support systems to assist researchers with depositing their publications in OA repository

. A 28% increase in self-archiving after the trainings UTL provided. UT alumni have been reached out and over a hundred of them provided OA to their theses and dissertations

UTL consolidated publishing of OA journals and OA monographs.

UTL has integrated five OA journals from other platforms and published two OA journals on OJS platform (a total number of OA journals now is 12). The UT Press has published 16 OA monographs, all of them are available at OAPEN platform and in DOAB

A network of OA advocates.

The project offered a platform for experts from different fields (researchers, universities, publishers, funders and policy makers) to exchange expertise, discuss implementation and practice OA.
ADDITIONAL RESOURCES
Read the case study containing key achievements, strategies, tactics and tools, success stories and lessons learnt from this EIFL-funded project here.
​Read the article Open Access in Estonia (ScieCom info, Vol 10, No 2 (2014)  written by Elena Sipria-Mironov here.
PROGRESS
To support the OA movement in Estonia, UTL participates in the European Commission (EC) funded OpenAIRE project. UTL cooperates with the Estonian Research Council providing researchers with the opportunity to comply with EC OA pilot and make their EC funded research outputs OA in UTL's repository.