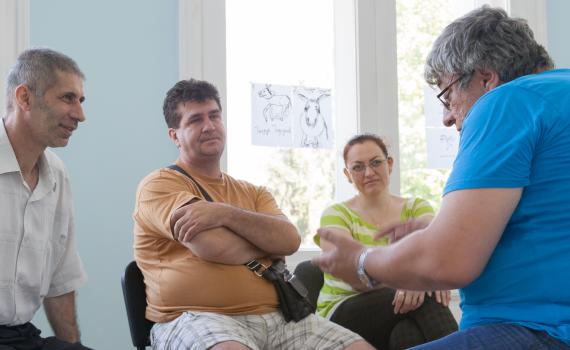 Community need
Long-term unemployed people are an at-risk group who struggle with depression and feelings of failure and exclusion. When lack of skills is an additional barrier to employment, these feelings get worse.
In 2010, the Labour Office Directorate in Ruse, Bulgaria's fifth largest city, estimated that unemployment had risen to 10%, and that of this number, a third were aged over 40. At the same time, Lyuben Karavelov Regional Library in Ruse recorded a 70% increase in the number of people coming to use the library's computers - mostly to look for jobs.
Librarians observed that older users lacked computer skills. A survey of unemployed library members aged from 18 to 40 found that most believed lack of computer skills and money for training were the main obstacles to finding jobs.
The library's innovative service
With support from the EIFL Public Library Innovation Programme (EIFL-PLIP) in 2011, the library created the KNOW service - Knowledge for Opportunities for Work. The service supports long-term unemployed people aged over 40 by providing free internet access and computer training, job-seeking skills, motivation, confidence-building and access to counsellors.
Intensive marketing attracted over 250 mentions in local and national media - and unemployed people flocked to the library to seek help.
EIFL-PLIP PROJECT TIMELINE
October 2011 - November 2012.
Achievements and Impact
In less than a year, the library worked with 47 women and 21 men (68 people) who are now more employable, confident and motivated, and who feel less excluded. 
Forty-four of the librarys' trainees found jobs. 
The service won recognition from Ruse Municipality, which adjusted the library's budget to accommodate KNOW
Ruse Municipality also provided additional funding to train other marginalized groups, including the elderly, women and child victims of violence, orphaned children and members of minority groups.
The library's two main partners, the Ruse Labour Directorate and the (ruseinfo.net) city information website have entered into long-term partnership agreements with the library. "The library team managed to change the belief that the library is just a place for cultural events. We'll strongly support any further activities," said Ms Kalinka Trifonova, manager of Ruseinfo.
In 2014, the library was awarded an EIFL-PLIP grant for a new project which uses ICT to teach children and youth financial literacy skills.
ADDITIONAL RESOURCES
Read a two-page case study about the library's Knowledge for Opportunities for Work project.
more public libraries supporting employment
​Read about more innovative public library services contributing to employment. PLIP-EMPLOYMENT