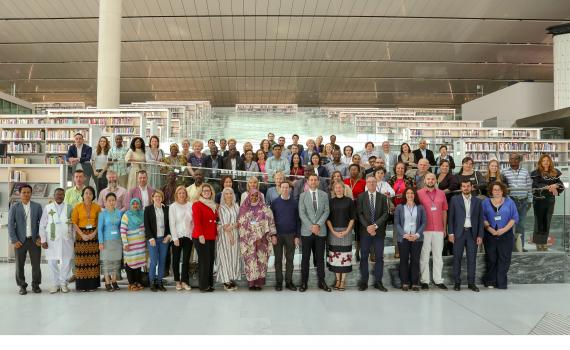 More than 80 people attended the 2018 EIFL General Assembly in Doha, Qatar, from 6 - 8 November. The event was hosted by Qatar National Library and took place in Qatar National Library, which is the newest national library building in the world.
Over three days participants took part in lively interactive sessions with expert guest speakers, collaborated and built links with one another, identified the most pressing needs in their consortia, and shared ideas about how to address these needs.
Knowledge-sharing sessions included presentations on managing e-resources tools and preparation for negotiations with publishers for transformative agreements. Jason Priem, co-founder of Impactstory, spoke about free, open-source search engines that can help people find, read, and understand scholarly literature. Two expert guest speakers presented tools on bibliometrics and discussed digital literacy skills that are essential for researchers.
Participants also had the opportunity to take part in individual discussions with EIFL partner publishers and programme managers during intensive 'speed dating' sessions.
CONFERENCE MATERIALS 
Programme with direct links to presentations
Speed Dating Schedule Day 1 and Day 2
Information about the speakers
List of General Assembly participants
Sponsors
Gold Sponsor
Silver Sponsor
Bronze Sponsors
Other Sponsors