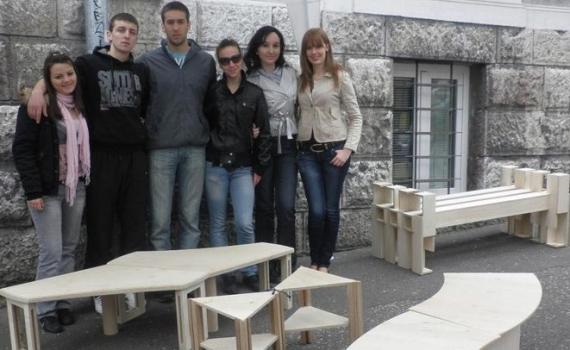 community need
In 2010, the world was in the middle of an economic crisis. Serbians – like people in other countries – were struggling: breadwinners were losing jobs; many families could not afford basic needs; teenagers' dreams of higher education were slipping away. Headlines about bank failures and collapses had left people suspicious of financial institutions.
When Belgrade City Library's research found that financial literacy education barely existed in Serbia, librarians decided to fill the gap.  After studying library financial literacy education models from other parts of the world, they designed a service that would work in Serbia.
the innovative service
The service comprises two parts. It is built around the library's popular Novcici ('Coins') website, which provides financial training for all kinds of people: students, young adults starting careers, families and pensioners. The website includes guides to different kinds of financial institutions; advice about savings, investment, credit and loan accounts, and online calculators to help you achieve short and long-term savings goals.
The second part is training. Using the website as a resource, librarians offer financial literacy training for high school students – young people who must soon face up to the realities of financial independence.
'Working with libraries has multiple benefits'
The service succeeded through good teamwork. The library's main partners were the USAID-supported Serbia Economic Growth Activity Project (SEGA), who gave funding and expert support for the training programme, and the Serbian Consumer's Association (APOS) who deepened librarians understanding of community financial literacy needs.
"We found that working with libraries has multiple benefits! They have quality human resources, good infrastructure, and there are libraries almost everywhere, in every part of town or country!" said Mr Ivan Mladenovic, senior communications advisor on USAID/ SEGA
achievements and impact
In just one year (2011-12) over 34,000 people visited the Novcici website – almost 100 people a day.

Over 3,500 high school students attended financial literacy workshops.

Two other libraries – in Novi Sad and Nis – took up the idea and also began offering financial literacy training.

The Novcici website is being widely used in community training by Belgrade Municipality's Youth Office and several non-governmental organizations.
more library services contributing to economic wellbeing
Read about more innovative public library services that contribute to community economic wellbeing and employment. PLIP-EMPLOYMENT