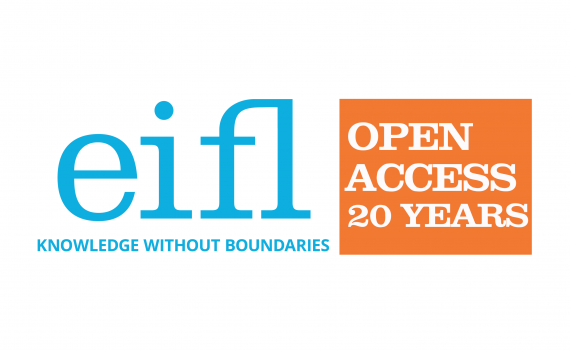 Posted by Guest Blogger, October 16, 2023
Pilate Chewe, Librarian at the University of Zambia and EIFL Open Access Coordinator, reports on Zambia's steadily growing open access movement, and the impact of improved visibility of research through an open access repository at the University of Zambia.
In 2015, EIFL supported the Zambia Library Consortium (ZALICO) to organize a six-month advocacy campaign for open access at institutions, including a national open access sensitization workshop. The campaign engaged academic directors, school deans, instructors, students and ICT officers.
Following this successful campaign, ZALICO member institutions have seen increased awareness of the open access movement. For instance, some of the premier tertiary institutions such and Cavendish University, Chalimbana University, Copperbelt University, Lusaka Apex Medical University, Mulungushi University, University of Lusaka and ZCAS (Zambia Centre for Accountancy Studies) University have pledged to strengthen their repositories. EIFL's technical support and resources are proving very useful in this regard.
IMPACT OF OPEN ACCESS
While take-up of open access and open science at most ZALICO member institutions has been relatively slow, for the University of Zambia (UNZA), the story is slightly different and encouraging.
In 2010, UNZA Library implemented its repository with support from the NUFFIC Foundation of the Netherlands. At inception, there was no repository policy to inform development and management of the platform. Retrospective digitization of theses that were in print format became part of the library's workflows and it became a requirement that postgraduate students submit an e-thesis for the repository in addition to the print version of their thesis. 
The research output uploaded to University of Zambia's Research Repository Online is now openly available globally resulting in increased citations. There has been a significant increase of research output archived in the repository since the adoption of a repository policy in 2021. 
Additionally, the repository is now one of the university's metrics for measuring researchers' productivity and performance and has become an important tool for academic promotions. Researchers are also publishing their research output in open access journals.
In 2022, the Times Higher Education World University Rankings ranked UNZA 6th best university in Africa from 156 universities in 20 countries. At the global level, UNZA was ranked in the 501-600 position out of 1,799 participating universities. This is partly due to the visibility of research output created by the open access repository and a strong repository policy adopted in 2021. This year (2023) UNZA will upgrade its repository software from DSpace 6.2 to DSpace 7.6. 
Future plans for OA and open science, 2023 and beyond
ZALICO has the following plans for the future - 
Continue advocating for open access, sharing good practice experiences and increasing visibility and impact of publications through open access.
Catalyze open access and open science awareness campaigns through seminars, workshops, etc. 
Encourage member institutions to develop an enabling policy environment for open access and open science.