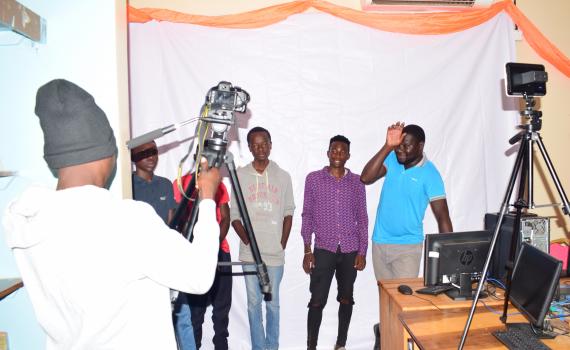 Choma Provincial Library in Zambia is transforming the lives of young creatives by providing them with training, space and equipment to work together on creative projects. In just one year, the library - 
Trained over 80 young creatives in digital, business, marketing, communications and co-working skills, as well as a variety of creative and technical skills. Some of the young creatives are now generating income from their art.
Enhanced performance skills and built young creatives' confidence to market their talents and their work. 
Attracted more youth to the library. 
Won recognition for the library and the young creatives. The library's initiative featured in national and local TV and radio broadcasts.
"The library has helped me to increase the number of creative activities that I do. Not only do I write scripts and act now, but I can also do photography." - Nachihulu Prisca, young creative.
Choma Provincial Library developed the project, titled 'Creatives for Change', after conducting a scan of facilities for young people in Choma, capital of Zambia's Southern Province. They found that there were some good youth centres and services, but that the town lacked facilities to support young people's creativity. After meeting with young people, the librarians decided that the project should concentrate on photography, civic writing, singing and poetry. 
With a small grant from EIFL and matching support from Choma-based organizations, the librarians allocated a space in the library where young people could work together on creative projects, and identified volunteer trainers to provide training. The librarians installed equipment for young photographers, musicians, songsters and other performing artists, and dedicated four computers downloaded with software for writing, sound, drawing, painting and photography to the project.
"The fact that one can walk into the library and access all this equipment, and even borrow it, is something extraordinary. We are grateful to the library for this initiative and we hope that the project will continue supporting us young creatives," said Rano Machona, the creative behind the fashion brand 'Baby Africa', who volunteered to provide training on social media and marketing.
More results and achievements of Choma Provincial Library's 'Creative for Change' project. 
BACKGROUND
Choma Provincial Library was one of 12 public  and community libraries in Zambia that took part in an EIFL-supported capacity building initiative for public librarians in Zambia, which trained librarians to develop new services that meet community needs. Towards the end of the training, participants were invited to apply for matching grants to fund services that were developed using skills gained during training.