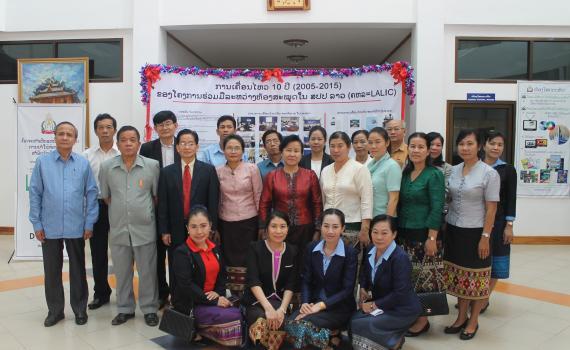 Posted: December 20, 2015
EIFL works to expand access to knowledge in a cost effective and sustainable way by supporting the establishment and development of strong national library consortia. Many of the library consortia have received start-up grants from EIFL, and all have benefited from our consortium management training, consultancy and support services.
HAPPY 10TH BIRTHDAY TO THREE LIBRARY CONSORTIA!
In 2015, EIFL partner library consortia in three countries – Laos, Palestine and Senegal – celebrated their 10th anniversaries.
LAOS: CELEBRATING LALIC'S 10TH ANNIVERSARY
Laos Library and Information Consortium (LALIC) celebrated its 10th anniversary at its 2015 annual meeting by giving member libraries the opportunity to present their achievements from the past 10 years.
When LALIC started out, with just 12 members, the situation for university libraries could be summed up in one word: 'lack'. There was an almost total lack of everything that libraries - and their users - needed to enter the digital world: the skills to use e-resources; funding for library development and ICT infrastructure; collaboration between libraries; information literacy skills.
Now, after 10 years, LALIC is a registered organization approved by the Lao Government, with 20 members, including university libraries, research libraries, college and polytechnic libraries, public libraries and the National Library of Laos.
LALIC's training has given hundreds of librarians, academics and students the skills and confidence to use digital technology; to conduct online research, and to use e-libraries and online databases to their full potential.
LALIC vigorously promotes the e-resources that its member universities have access to through the EIFL Licensing Programme, and there is ongoing demand for e-resources training, especially from young researchers and students.
Some big challenges remain. In Laos, many universities and research institutes struggle with slow connectivity. Many do not have their own IP addresses - a stumbling block to licensing e-resources. There is an urgent need to upgrade librarians' digital skills further, to improve services.
However, the energy to go forward is strong, and LALIC has some exciting plans to overcome these challenges.
We wish LALIC continued success in the years ahead!
PALESTINE: CELEBRATING PALICO'S 10TH ANNIVERSARY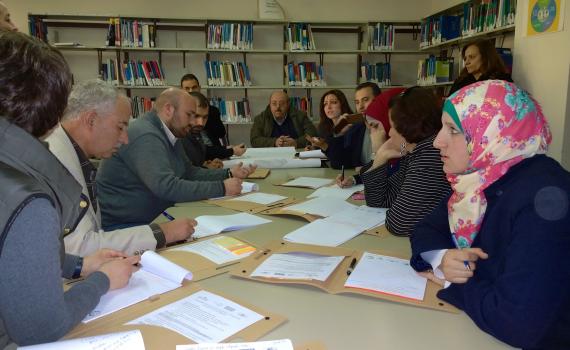 The Palestine Library and Information Consortium (PALICO) marked their 10th anniversary in May 2015 with a series of events celebrating successful participation in EIFL programmes.
EIFL Director Rima Kupryte joined PALICO's 10-year celebrations in Birzeit, and remembered her visit to Gaza and West Bank in 2005, when she attended PALICO's launch meeting: "There was so much energy. During that meeting the baby was born. I am so pleased to see that despite political challenges, the library community has stayed together for the past 10 years," she said.
"Ten years ago EIFL reached out to us with a helping hand. This grew into a strong partnership that has benefited education and research in Palestine," said Diana Sayej Naser, EIFL's country coordinator in Palestine.
Before the creation of the consortium, high prices of subscriptions meant libraries could not afford e-resources, and library users had to depend solely on a limited range of printed materials. Today, PALICO's membership comprises 16 university, college and polytechnic libraries that, through the EIFL Licensing Programme, can offer e-journals, e-books and databases to the academic community.
PALICO has established itself as a reputable professional body. The Ministry of Higher Education has recognized the importance of the consortium's work in providing access to quality information for education and research, allocated special funds for e-resource subscriptions in 2014 and 2015.
The volatile political and social situation in Palestine means that PALICO faces many challenges; however, PALICO is confident and has strong plans for the future.
We wish PALICO continued success in the years ahead!
SENEGAL: CELEBRATING COBESS'S 10TH ANNIVERSARY
The Senegalese Library Consortium, COBESS, celebrated a decade of improving access to knowledge with a gala event in Dakar, Senegal's capital city.
Over the past 10 years, COBESS (Consortium des Bibliothèques de l'Enseignement Supérieur de Senegal) has become a leading advocate for open access to research, increased access to e-resources and for improved national and international copyright laws for libraries.
COBESS has valued EIFL's support over the years: "Support from EIFL has been crucial to COBESS in many areas, including training of librarians and researchers, open access and copyright. We also especially appreciate how EIFL has enabled us connect with our fellow librarians from across the world through the annual EIFL General Assembly," said Youssoupha Gueye, EIFL Country Coordinator in Senegal.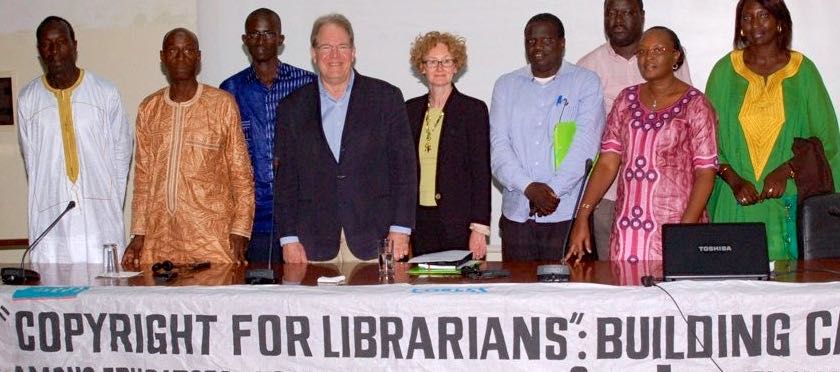 In 2005 there were only two public universities in Senegal, in the cities of Dakar and St Louis. Access to scientific journals and research publications was scarce, and access to e-resources was almost non-existent.
A small group of library professionals decided it was time to overcome these challenges by creating a consortium through which libraries could jointly develop and implement library and documentation policy that would lead to improved access to e-resources in the higher education and research sectors. Their efforts led to the creation of COBESS.
The new consortium started with libraries from just the two existing public universities as members.
Today there are five public universities in Senegal, in addition to colleges and research institutes, and COBESS has 28 member libraries and institutions.
COBESS has made important gains. Through the EIFL Licensing Programme, teachers, researchers and students at COBESS's 28 member libraries and institutions have free access to 14 online databases and many journals covering all major academic disciplines, including medicine, science, finance, and humanities.
Two COBESS members - the Institut Africain de Développement Economique et de Planification and Université Cheikh Anta Diop de Dakar - have launched open access institutional repositories with COBESS's support and encouragement.
COBESS's training in the area of copyright has led to a dynamic advocacy campaign for ratification of the Marrakesh Treaty by the government of Senegal.
We wish COBESS continued success in the years ahead!