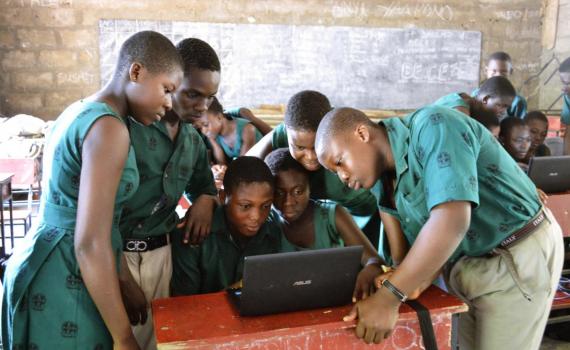 The exam results for junior high school children in Ghana are out - and our mobile library Hands-on Computer Classes project has achieved its best results yet! 
In 2019, the average pass rate for the subject ICT in the Basic Education Certificate Exam (B.E.C.E.) for children who took part in the mobile libraries' practical computer skills classes in three regions was 92%.
This is the fifth year of the project, in which mobile libraries take solar-charged laptops to under-resourced schools in poor and rural areas to offer practical computer skills classes to children who would otherwise have to learn about ICT in the abstract. The laptops have been preloaded with educational content so that the children can also study for their exams in other subjects.
The 2019 ICT exam results continue an upward trend. In 2014/15, when the project started, the average pass rate in the subject ICT at B.E.C.E. level was just 45%; in 2016, in the schools where we worked, it increased to 65%; in 2017 to 81%, and in 2018 it was 85%. 
All the children who wrote the exam in 2019 had been taking part in the mobile libraries' classes for three years, since Grade 1. They were able to build on their knowledge and practical skills year-by-year till Grade 3, when they sat for the B.E.C.E. 
FROM SMALL BEGINNINGS TO A COUNTRY-WIDE SERVICE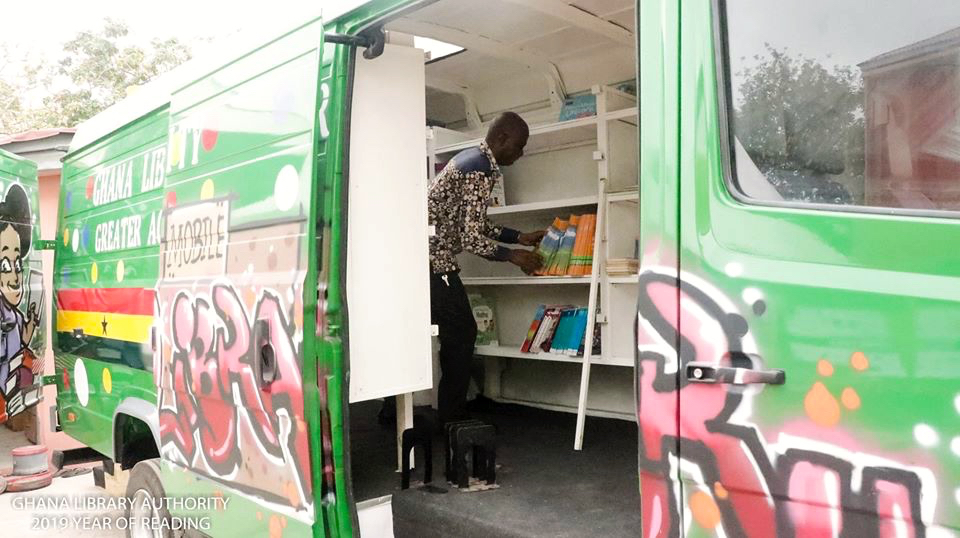 The B.E.C.E. is a crucial exam because it is the gateway to secondary school. However, many schools in poor and rural areas do not have computers, internet connections or electricity, and so children fail their ICT exams. The cost of failure for children of poor families in Ghana is high - their parents take them out of school. They are unable to compete in the job-market, and the cycle of poverty continues.
The seeds for the Hands-on Computer Classes project were sown by librarians at Volta Regional Library, which applied to EIFL for a small grant in 2012 to help children who were struggling to pass their ICT exams. The librarians' idea was to equip their mobile library with solar panels, laptop computers and modem internet, and to conduct computer classes in five junior high schools in under-developed parts of Ho, capital of Volta Region.
For many of the children this was their first-ever experience of computers. The project in Volta Region was so successful that we decided to raise further funds for it through the online fundraising platform, GlobalGiving. Our campaign attracted major funding through GlobalGiving UK from the technology giant, Nokia, enabling us to scale up the project to include mobile libraries in three more regions - Ashanti, Upper East and Western - and to reach over 1,800 children in more than 20 schools annually.
The project's popularity with children, teachers and parents, and the remarkable exam results, inspired the Ghana Investment Fund for Electronic Communications (GIFEC), a government agency, to equip the remaining six mobile regional libraries operated by the Ghana Library Authority (GhLA) with laptop computers. Government support has enabled the GhLA to transform the project into a sustainable service that will be offered in 10 regions. These are the four regions that we've been working with - Ashanti, Upper East, Volta and Western - and six more, Brong-Ahafo, Central, Eastern, Greater Accra, Northern and Upper West. 
In November last year, EIFL and the GhLA trained librarians from the six additional regions to operate ICT-equipped mobile libraries; to plan and conduct training for school children, and to build partnerships with teachers and education officials. The trainers were librarians from Ashanti and Volta Regions with experience of conducting hands-on computer classes. 
Managed by the GhLA, the 10 mobile libraries will start visiting schools in the first quarter of this year.
THANK YOU FOR YOUR SUPPORT
Over the past five years, EIFL continued to raise funds for the expanded project through GlobalGiving, and through intensive #GivingTuesday appeals. The transformation of the project into a sustainable service led by the GhLA  means that we will no longer be fundraising for the project.
On behalf of everyone at EIFL, thank you for your donations and for your loyalty to our project over the years. As a result of your support, thousands of children have passed the B.E.C.E. and progressed to secondary school. From there, they can go on to further study, employment and brighter futures. 
We are confident that, led by the GhLA, the hands-on computer classes will continue to thrive and grow.
To see further developments, follow the Ghana Library Authority on social media - Facebook, Twitter @ghanalibraries.
Watch EIFL's videos about the Hands-on Computer Classes project: