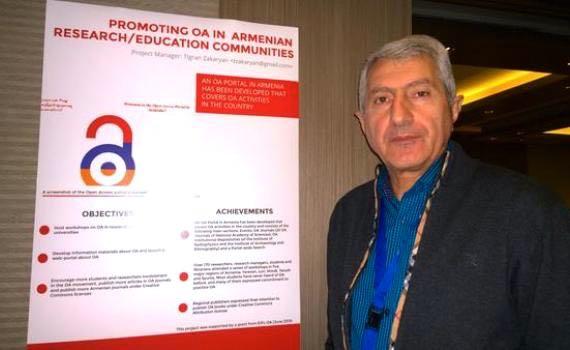 EIFL (Electronic Information for Libraries) is pleased to announce a new six-month project, 'Enabling Open Access Electronic Theses and Dissertations as High Priority Scholarly Resources for Armenian Research and Education Communities'.
The project will result in development of Armenia's first national open access (OA) Electronic Theses and Dissertations (ETD) repository. The repository will be created in a format that is accessible on computers and mobile digital devices.
In addition to creating the new repository, the project will promote OA ETDs among young researchers, academicians, Master's and PhD students, and policy makers.
The main activities include hosting workshops in research centres and universities, celebrating Open Access Week, publication of promotional material and development of the national ETD repository.
EIFL's grantee, Electronic Library Consortium of Armenia (ELCA), will implement the project with the following partners:
The Fundamental Library of National Academy of Sciences will develop and maintain OA ETD repository;
The Higher Certification Commission, the National Library of Armenia and The Institute of Radiophysics and Electronics, National Academy of Sciences will be partners in development of the ETD repository;
The International Scientific and Education Centre at the National Academy of Sciences will run educational programmes for Master's and PhD students.
BACKGROUND
Read more about the impressive OA developments in Armenia since 2007.
For more information about ETDs, see The Networked Digital Library of Theses and Dissertations (NDLTD) website.