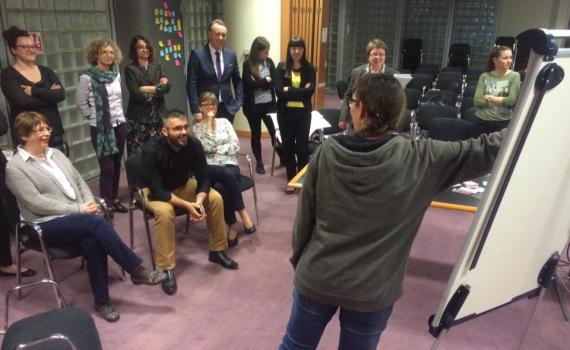 In March and May this year, EIFL convened meetings of over 20 leading Croatian public librarians and library advocates to develop a vision for public libraries in the context of Croatia's national development strategies and priorities.
At the meetings, participants agreed that Croatia's over 200 public libraries could do more to contribute to national development goals. Participants identified four important areas where libraries could make a strong contribution: provision of advanced digital skills training to improve employability of job seekers and to encourage young people to take up careers in technology; stimulating interest in creative industries; improving access to agricultural information in rural areas, and promoting social inclusion.
However, most libraries in Croatia are under-resourced and have limited funding. The group therefore also developed a strategy for advocacy targeting government officials and private-sector donors, with the aim of raising funds to enable public libraries to develop and implement new public library services.
MEETINGS 'STRENGTHEN BONDS' BETWEEN LIBRARIANS
The meetings combined discussion and planning with communication and advocacy training to prepare the ground for a future advocacy campaign.
"The meetings have strengthened bonds between librarians in Croatia. We can now see that we really do face the same challenges when it comes to meeting community needs. By working together it will be easier to overcome these challenges," said Gorana Tuskan, a leading member of the group.
"The main thing is to get other libraries involved. We will do this in October during the Croatian Library Association's General Assembly and National Conference. During the event, we will organize a workshop for other public librarians to share learning from our meetings and decide on a national programme of activities," she said.
BACKGROUND
EIFL has been working with public libraries in Croatia since 2011, through the EIFL Public Library Innovation Programme. EIFL grant support enabled two libraries to introduce new services to meet community information needs. There are also many other innovative public library services in Croatia, and two have won EIFL Public Library Innovation Awards.
The innovative services funded and recognized by EIFL are: