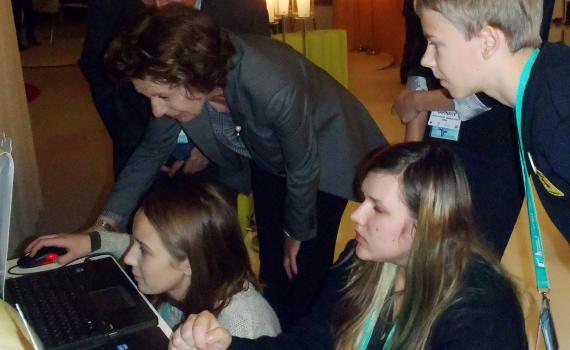 Posted: November 15, 2013
Utena A&M Miskiniai Public Library's innovative 'Play to Study' project  attracted high-level attention at ICT 2013, Europe's biggest technology event, and a special audience with Ms Neelie Kroes, (now former) Vice-President of the European Commission responsible for the Digital Agenda.
The event, titled ICT 2013: Create, Connect, Grow, brought together almost 5,000 technology experts, researchers and innovators representing governments, business, civil society and academia from across the world.
The conference took place in Vilnius, capital of Lithuania, from November 6-8.  It was organised by the European Commission in partnership with the Lithuanian Presidency of the Council of the European Union, and the official sponsors of the Presidency.
Lithuania's President, Ms Dalia Grybauskaite, and Ms Kroes, opened the event.
The library initiated 'Play to Study' with support from EIFL's Public Library Innovation Programme. The project centres on an educational computer game, titled Iššūkis (Challenger), which the library developed in partnership with local government, schools, teachers, education experts, technology consultants and village libraries.
Through tasks and exercises, the highly popular game encourages teenagers to study. In its first year (2009/2010) the game reached about 1,500 pupils through 23 village libraries. In 2012, the library received funding to expand the game to nine more municipalities, and it is now being played in 113 libraries and 58 schools, reaching about 5,000 students. Funding for expansion came from the European Social Fund and the Lithuanian government, through the Education Development Centre (EDC), a government institution which supports students, teachers and schools.
Children presented the game to Ms Kroes, showing her how it works and enthusiastically answering questions about how it helps improve their school results.
The library was thrilled to be one of only three Lithuanian projects selected to demonstrate the effectiveness of technology in education:
'This was an exceptional opportunity to present the game to such a high-level audience. Most important, it gave us the chance to show how public libraries can be equal partners  with business and other players in the field of digital technology development,' said Ms Laima Lapiniene, the librarian who coordinates 'Play to Study'.
Read more about Utena A&M Miskiniai Public Library's innovative educational computer game…