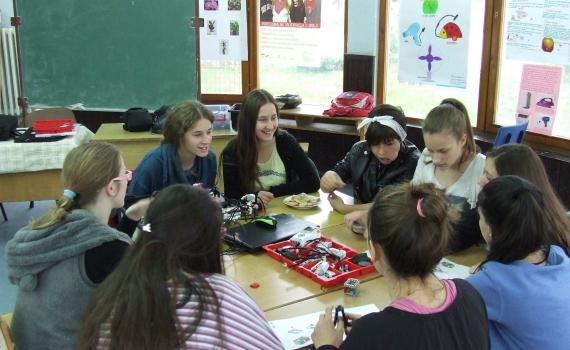 Public Library 'Dušan Matic' Cuprija in Serbia has shared results of its pioneering Biblioteka++ pilot project, which teaches young people practical computer coding skills. The project was launched in 2014 with support from the EIFL Public Library Innovation Programme (EIFL-PLIP).
In just 18 months, the project taught over 500 children and youth how to develop useful problem solving software, to create web applications and to programme robots to move.
Biblioteka++ was the library's solution to two challenges facing information technology (IT) teachers and learners in Serbia: firstly, schools teach computer coding theory, but many do not have sufficient equipment for students to put their theory into practice, and secondly, the tight school schedule means there is limited time for practical sessions.
Lively classes inspire students to enrol for further study in IT
Public Library 'Dušan Matic' Cuprija offered extramural computer coding classes in the library and in schools. The classes were lively and interactive, and students said they benefited from learning in a non-formal environment.
The library's classes popularized IT as a possible career for young people - and inspired 13 students form a local school to enrol for further study at an IT college in Belgrade, Serbia's capital city.
"The library has transformed itself into a place young people would like to visit. Technology skills are extremely important for our future careers, and we now have a place to gather, learn, share knowledge, to innovate and play games in a pressure-free atmosphere,"  Nikola Spasić, a secondary school student, told the library.
With support from the Cuprija Municipality, schools and other partners, the library's Bibliteka++ classes are continuing.
Read more
Read a two-page case study about the impact of the project in the community and on the library.
Background
Public Library 'Dušan Matic' Cuprija is one of 10 public library projects for children and youth funded by EIFL-PLIP in 2014. These projects reached over 3,500 young people in Africa, Europe and Latin America, teaching them valuable digital technology, e-literacy, analytic and communications skills.
Since 2010, EIFL-PLIP grants have initiated and supported library services and projects that are reaching communities through over 300 public and community libraries in 27 countries in Africa, Asia, Europe and Latin America.
EIFL-PLIP works across six crucial community development issues: agriculture; digital inclusion; education; employment; health, and supporting the needs of women and girls.
Read more about EIFL-PLIP grantees and their innovative services.