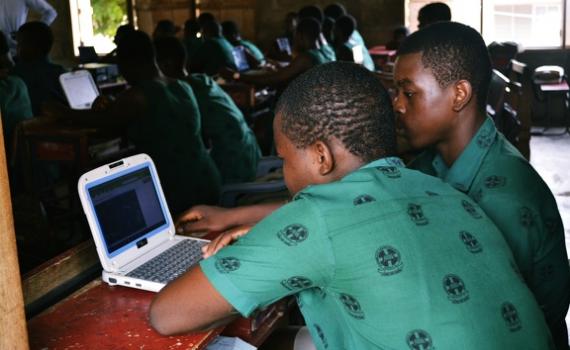 EIFL and partners have received a grant for a project that will enable public libraries across Ghana to teach thousands of school children advanced digital and digital literacy skills and connect them to digital learning opportunities and online educational resources.
Practical computer and internet classes in schools in Ghana are generally limited by lack of infrastructure. While some schools have ICT laboratories, these are under-equipped, with few computers and unstable power and internet connections. Many schools still have no ICT infrastructure at all.
Over the last five years, many public libraries in Ghana have been equipped with ICT by the Ghana Investment Fund for Electronic Communications, a government agency, and private and philanthropic donors. This is mainly the result of advocacy by the Ghana Library Authority (GhLA), and successful championing of the role of well-resourced public libraries in advancing digital inclusion and in supplementing school education. 
The 'Enhancing digital learning in public libraries to provide digital skills and online information literacy training to students' project will work with 15 public libraries that already have computers and the internet available for public use. The project will build the digital and training skills of library staff, enabling them to teach school students aged from 12 to 18 advanced computer and information literacy skills, and to connect them to digital learning opportunities. 
Digital learning hubs
The libraries will become digital learning hubs, where students in Junior and Senior High schools will learn to use computers and the internet effectively for a successful and safer digital future, and further their education through digital learning opportunities.
"The EIFL Public Library Innovation Programme (EIFL-PLIP) team is delighted about the new partnership to mobilize public libraries in Ghana to start new digital learning programmes. We see it as a chance to further the contribution of public libraries to quality education," said Ramune Petuchovaite, EIFL-PLIP Manager.
"In 2020, Ghana and EIFL successfully completed a project in which mobile libraries traveled to schools to provide practical ICT skills classes. As a result, exam results in ICT improved at 25 rural schools in four regions in Ghana. I am looking forward to this collaboration with EIFL and TechSoup and building the capacity of more public libraries in Ghana to help thousands of students advance their digital skills and prepare for opportunities that may arise anywhere in the world," said Hayford Siaw, CEO of the GhLA. 
About the partners
EIFL's partners are - 
Ghana Library Authority (GhLA), the government agency mandated to establish, equip, maintain, and manage public libraries in Ghana. In all, GhLA manages a network of 115 public libraries across the country.
TechSoup, a non-profit international network of non-governmental organizations that provides nonprofits, libraries, and foundations with technology solutions and skills they need to improve lives globally and locally. 
The project is supported by the Internet Society Foundation through the Strengthening Communities, Improving Lives and Livelihoods (SCILLS) grants programme.