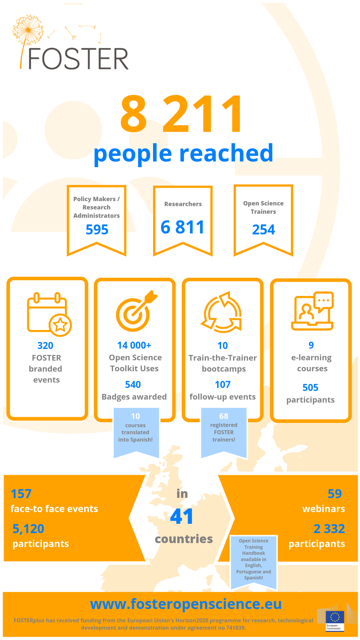 The FOSTER (Facilitate Open Science Training for European Union Research) project has supported researchers and research organizations to move beyond simply being aware of open science approaches to being able to apply them in their research workflows.
EIFL was one of 11 partners from across Europe who collaborated in the project. Our role was to coordinate and lead training, and to work with our partners to build a platform for open science learning and training to continue in future. 
The two-year project ended in April 2019, and we joined our partners to look back at achievements. 
TRAINING EARLY CAREER RESEARCHERS
FOSTER project training mainly targeted early career researchers (PhD students) and emphasized the practical skills needed to open up research practices, to manage and share research data and to make publications open and research results reproducible. 
Over two years, the FOSTER project organized 157 training events with 5,120 participants and 59 webinars which attracted 2,332 participants. Learners came from 41 countries. 
The project also created an online learning programme for early career researchers, in English and Spanish. The FOSTER Open Science Toolkit comprises 12 courses. Learners who complete a course are rewarded with an 'open badge' that recognizes their knowledge and skills.
The courses are also organized into five learning paths, or specializations: The open access author, The responsible data sharer, The reproducible research practitioner, The open innovation accelerator and The open peer reviewer. Badges are also awarded for learners who complete a particular learning specialization. 
The toolkit has been extremely popular: in less than 10 months, it was used 14,000 times, and 540 'open badges' had been awarded. 
TRAINING OPEN SCIENCE TRAINERS
The FOSTER project built an open science trainers' support network with  trainers based at a wide range of European research performing organizations and research infrastructures. 
Over 250 researchers and librarians who were already involved in open science training at their institutions took part in 10 open science bootcamps for trainers. At the bootcamps, the trainers improved their training techniques, learnt how to deliver FOSTER training modules to different learner groups, and developed open science training courses suited to their own institutions and contexts.
To support the trainers, the FOSTER project developed the FOSTER Open Science Training Handbook. The handbook, drafted by a group of 14 authors at a book sprint in Hannover, Germany early in 2018, is an open, living teaching resource that trainers can use, adapt and add to. It includes useful examples of successful open science training methods and courses. 
THE FOSTER PORTAL 
All the learning material and the e-courses can be accessed through the FOSTER portal. The portal's 'Trainers' Corner' provides access to the Training Handbook and a wealth of other useful training resources, including videos, models for presentations and course outlines, and material for marketing training and promoting open science practices. 
FIND OUT MORE