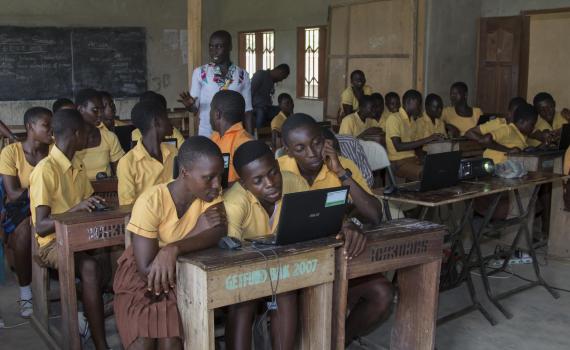 The 'Hands-on computer classes for 1,800 Ghana children' project has contributed to a remarkable 20% increase in the information and communications technology (ICT) exam pass rate at 25 schools in poor and rural areas of Ghana.
Exam results for 2016, recently received by EIFL, show that the project has succeeded in its aim of helping children attending schools that do not not have computers, internet connections or electricity to pass their ICT exams.
The project equipped mobile libraries with laptops, modem internet and solar power to charge the laptops, enabling librarians to travel to 25 poorly-resourced schools in four regions of Ghana (Ashanti, Western, Upper East and Volta) to offer practical ICT classes to struggling schoolchildren. The project also trained 25 teachers to use ICT and to manage hands-on computer classes.
CLASSES HELP CHILDREN PROGRESS TO SECONDARY SCHOOL
ICT is a compulsory, examinable subject for schoolchildren attending junior high schools in Ghana. Passing ICT exams is especially important for children in Grade 3, because at the end of Grade 3, children write the Basic Education Certificate Examination (B.E.C.E.) - the exam that determines progress to secondary school.
In just one year -  
Over 3,800 junior high school children at 25 schools in grades 1, 2 and 3 attended the libraries' hands-on computer (ICT) classes.
Out of 1,146 children in Grade 3 who participated in ICT classes, 1,070 took the ICT exam, and 700 of them passed.
The project contributed to a remarkable improvement in the ICT exam pass rate. In 2015 the average ICT exam pass rate in participating schools was 45%. In 2016 the ICT exam pass rate was 65% - an increase of 20%.
The project also won the respect of parents and recognition for the four regional libraries.
"Every week, parents move their children from other schools which are not benefitting from the project to my school. They want their children to have this opportunity to learn about technology and pass their exams," said Mr Francis Pepra Boansi, headmaster of Kwaaso Presbyterian Junior High School.
VIDEO: WHAT THE CHILDREN AND TEACHERS SAY
Watch EIFL's video about the project - or you can watch
PLANS FOR THE FUTURE
The four mobile libraries resumed their classes in September 2016, when the 2016/2017 school year begun. Hundreds of newly-enrolled children will be able to take part in the libraries' classes - many of them touching a computer for the first time. Students who have just graduated to Grade 3, and who write the B.E.C.E. in 2017,  will have an even better chance of passing and progressing to secondary school, because they will be able to build on knowledge and understanding developed in 2016.
READ MORE
Read more about the project here.