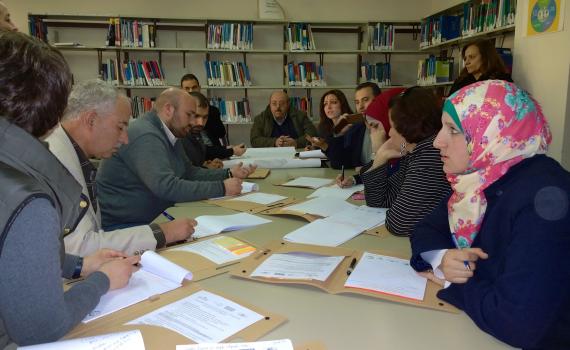 Delegates to EIFL-funded workshops to build open access (OA) capacity in Palestine discussed special challenges facing the Palestinian research community, including how to improve visibility of Palestinian research; how to overcome difficulties in collaboration resulting from restrictions on movement within Palestine, and how to change negative perceptions of Palestinian authors held by publishers of international journals.
Over 100 people from 16 institutions attended the workshops, titled 'Open access: How to maximize the impact, efficiency and availability of your research'. The workshops took place at three institutions - An-Najah National University, Birzeit University and Palestine Polytechnic University - in Palestine's West Bank, from 6 - 9 December 2015.
Delegates included researchers and research administrators, librarians and information technology staff. 
In his opening address, Dr Henry Giacaman, Vice President of Academic Affairs at Birzeit University, stressed the importance of OA in facilitating exchange of information and minimizing the costs of access to information. He noted the low cost of introducing OA into institutions.
Speaking about the problem of predatory publishing (exploitative publishing business models that involve charging publication fees to authors without providing the editorial and publishing services associated with legitimate journals), Dr Giacaman drew attention to availablility free online resources for checking the quality of the publisher, for example, the Directory of Open Access Journals, Open Access Scholarly Publishers Association (OASPA) members' list, and Think. Check. Submit: Choose the right journal for your research.
In addition to discussing challenges facing researchers, delegates took the opportunity to report on progress in OA at their institutions.
OPEN ACCESS AT AN-NAJAH NATIONAL UNIVERSITY
An-Najah National University is the largest university in Palestine with over 25,000 students. It maintains an OA portal, An-Najah Scholars, that includes journal articles (from An-Najah University Journal for Research - Humanities, Medical and Health Sciences and Natural Sciences), conference proceedings and theses.
OPEN ACCESS AT BIRZEIT UNIVERSITY
Birzeit University has over 11,000 students, including 9,764 undergraduate students, 1,168 graduate students, and 91 diploma and special students. The university has made theses and dissertations openly available via the library website and created a database of Birzeit University Publications that will form initial content for an institutional OA repository scheduled to be launched in 2016.
OPEN ACCESS AT PALESTINE POLYTECHNIC UNIVERSITY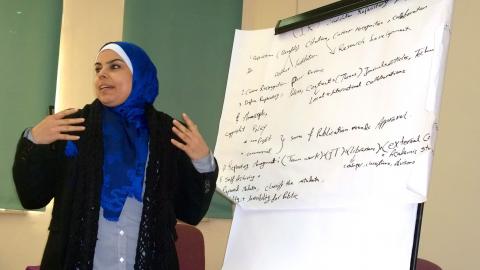 Over 7,000 students - 50% of them women - study at Palestine Polytechnic University (PPU). PPU publishes Palestine Journal of Mathematics as an OA journal.
As one of the OA champions in the country, Dr Mustafa Abu Al-Safa, Vice President for Academic Affairs at PPU, attended the (unesco.org/new/en/communication-and-information/resources/news-and-in-focus-articles/all-news/news/first_regional_pan_arab_consultation_on_open_access_to_scientific_information_and_research/#.VpY31zZMo3i) first Regional Pan-Arab Consultation on OA to Scientific Information and Research hosted by UNESCO in Cairo in September 2015. Together with his team he plans to set up an institutional OA repository.
OPEN ACCESS AT AL-QUDS OPEN UNIVERSITY
Al-Quds Open University, which has almost 6,000 students, became the first university in Palestine to set up an OA institutional repository using DSpace FOSS.
WORKSHOPS STRENGTHEN COMMITMENT TO OPEN ACCESS
The workshops strengthened commitment of participants to OA.
In addition to devising ways of further promoting OA in their institutions, participants proposed recommendations to the Ministry of Education and Higher Education for encouraging use of OA repositories for national level research assessment and evaluation.
They also suggested ways in which member institutions of the Palestinian Library and Information Consortium (PALICO), an EIFL partner consortium, can help maintain sustainable OA repositories, by, for example, using one shared platform.