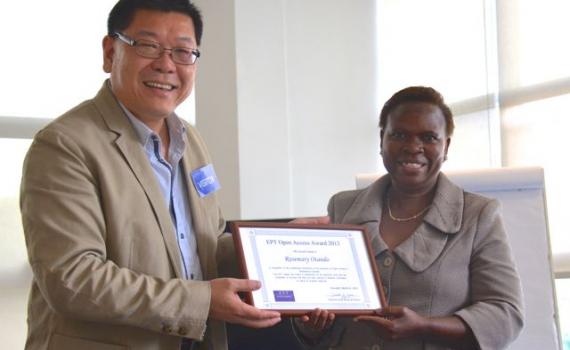 Electronic Publishing Trust for Development (EPT) has announced the recipients of the EPT Open Access Awards 2013, in recognition of the effort made by individuals working in the developing and emerging countries in the furtherance of Open Access (OA) to scholarly publications.
This year, the trust received ten nominations from a broad spread of countries and covering a varied range of work. On February 5, 2014 EPT declared Muthu Madhan, India, and Rosemary Otando, Kenya, as joint winners.
"This is a pleasant surprise. I am very excited!" said Rosemary Otando, Systems Librarian in the University of Nairobi Library and EIFL Country and OA Coordinator.
"I am really humbled to receive such great recognition and do appreciate my selection for this noble award," she said.
Establishing OA in Kenya 
Rosemary led OA activities in Kenya, raising awareness among different academic groups, and been instrumental in establishing the University of Nairobi OA Policy and OA  repository.uonbi.ac.ke repository. In addition, she has been active in training, and in facilitating the establishment of 20 institutional OA repositories in the country.
"Thank you EPT and EIFL. I also thank the other EIFL coordinators in Kenya especially the EIFL FOSS Coordinator Evan Njoroge whom we have worked closely together to ensure Kenya embraces OA initiatives," she said.
"Also, a special thanks to the University of Nairobi staff, specifically the Vice Chancellor Prof. Magoha, G.A.O and Prof. Irungu, L. W, the DVC, Research Production and Extension for supporting OA initiatives in the University of Nairobi, the Library Management Board, and my colleagues for their positive suggestions.
It shows that the individual efforts and sacrifices we make in our work are bound to be recognized by somebody. We will continue with the promotion of OA at the institutional level
 and countrywide and look forward to more achievements in OA in Kenya."
Raising awareness of OA in Armenia and Egypt
The panel also awarded certificates of commendation to former EIFL coordinator Mandy Taha (Egypt) and (jointly) to current EIFL coordinators Tigran Zargaryan and Tigran Zakaryan (Armenia).
Tigran Zargaryan, National Library of Armenia, and Tigran Zakaryan, Institute of Radiophysics and Electronics, Armenian National Academy of Sciences have been active in raising awareness and advocating for OA in Armenia and have set up an OA journals' portal containing all of the Armenian scholarly journals published by the Armenian Academy of Sciences as well as OA repositories.
Mandy Taha, Senior Librarian and Project Leader, IFLA Center for Arabic Speaking Libraries in the Library of Alexandria, Egypt, has taken a leading role in supporting and publicising OA in Egypt and in Arab region. Mandy was a former EIFL-OA coordinator and established a series of seminars and talks to popularise OA among University students and staff.
EIFL would like to congratulate Rosemary Otando and Muthu Madhan on receiving such a distinguished award and Mandy Taha, Tigran Zargaryan and Tigran Zakaryan for their certificates of commendation.
Background
EPT was established in 1996 to facilitate OA to the world's scholarly literature and to support the electronic publication of reviewed bioscience journals from countries experiencing difficulties with traditional publication.
EIFL-OA Programme Manager Iryna Kuchma received the EPT Open Access Award 2012.