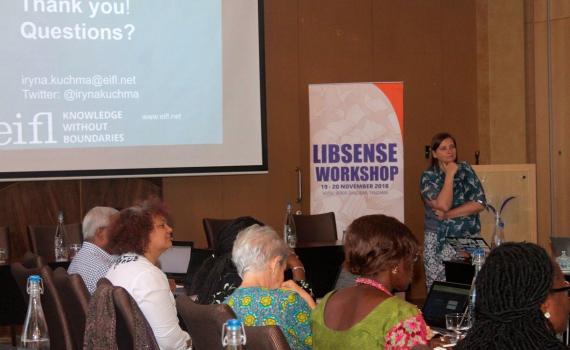 Library and regional and national Research and Education Network (REN) stakeholders from 17 African countries have held the first in a series of meetings to explore how open access (OA) repositories can better engage with RENs to break down institutional silos, add value to repositories, and support the growth of open science in the region.
The meeting, in Zanzibar City, Zanzibar, from 19 - 20 November, took the form of a two-day workshop, with space for presentations and discussions. It was jointly organized by EIFL, the West and Central African Research and Education Network (WACREN), the Confederation of OA Repositories (COAR) and OpenAIRE, in conjunction with the UbuntuNet Alliance Conference.
Repositories are the foundation of open science as they manage and provide access to research outputs such as articles, data, theses and dissertations, and other valuable research products. Librarians shared information about repository activities in their countries, discussed how different institutions are addressing the challenges involved in repository management, and how to support the increased visibility of OA content in Africa.
INCREASING VISIBILITY OF AFRICAN RESEARCH
Participants agreed that the adoption and implementation of institutional OA policies would greatly help with populating repositories, but that new incentives were also needed to encourage researchers to deposit their output into OA repositories. There was also discussion on how to embed repository services more deeply into researcher workflows.
Workshop participants reviewed the major areas of interoperability, which include common metadata elements, vocabularies and the use of persistent identifiers. Interoperability is critical so that resources across repositories are not siloed. The more widespread adoption of interoperability requirements will allow the development of other value-added services such as disciplinary, funder and institutional dashboards that allow viewing of content related to a specific research area, university, or research funder.
Increasing the visibility of indigenous knowledge was also identified as a major concern. Although research is increasingly global, local research priorities are extremely important. The current system which incentivizes researchers to publish in international journals does not support these local concerns well, but rather favours research that is of interest in Western Europe and North America.
THE WAY FORWARD
The group agreed actions that include librarians and RENs jointly raising awareness with university administrators and governments about open science and its potential benefits, and working together on training activities for repository managers; and defining the role of RENs in providing technical and  infrastructure support for repositories as well as developing value-added services.
The Zanzibar workshop was the first in a series of meetings to develop a more cohesive strategy for strengthening and building repository networks in Africa.  A second meeting of the West and Central African community will be held in Accra, Ghana, in March 2019 in conjunction with the WACREN 2019 conference. This will be followed by a meeting in Tunis, Tunisia, in April 2019, in conjunction with a conference of the North African community of the Arab States Research and Education Network (ASREN).
FIND OUT MORE
Read the full report on the workshop here.