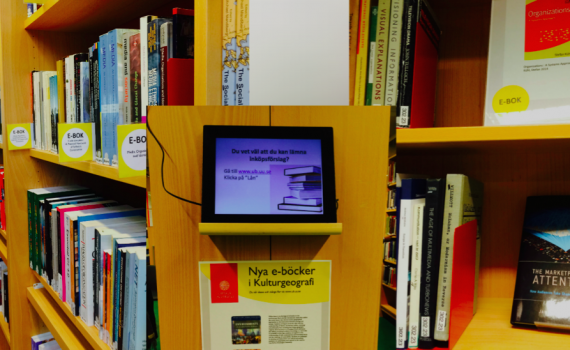 Posted: September 11, 2015
On 3rd September, two guest speakers from Uppsala University Library in Sweden joined EIFL for an inspiring webinar on how libraries can promote their collections to end users.
Linda Vidlund, Section Director, and Cecilia Petersson, Deputy Head Librarian, shared experiences from Uppsala University Library and discussed some of the ideas they have experimented with.
The webinar was attended by over 60 participants from 12 EIFL network countries: Belarus, Bosnia, Botswana, Congo, Kenya, Kyrgyzstan, Latvia, Lithuania, Macedonia, Malawi, Serbia and Tanzania.
The webinar started with a discussion about libraries in the digital era. Petersson pointed out that for many people, the word 'library' brings a physical space to mind; however, by using the internet, and accessing electronic resources, users can now "visit the library" without ever leaving their home, she said.
"The library is much more than the physical building - the library is now available 24/7, every day of the week, all year long," said Petersson.
This presents new opportunities for promoting e-resources, as well as new challenges.
Four key points raised during the webinar
1) Find out where your users - students, researchers and faculty - look for content. You can do this by getting invited to student meetings and listening to students' information needs; talking to the students' association; noting and keeping records of the questions library users ask at the information desk. Activities like these will give you ideas about how to promote e-resources in your libraries.
2) If your library users like to browse the bookshelves, this is where you need to promote your e-resources. You can place posters and fliers with information about the e-resources near the bookshelves, or use digital photo frames, with on-screen displays of e-book titles and guides to the using the digital catalogue. You can make the displays subject-specific and place digital photo frames in different shelf areas. [A digital photo frame is a picture frame that displays digital photos without the need of a computer or printer.
3) Skills development: make sure your librarians, especially those working at the front desk, know how to access e-resources, and are confident about their knowledge.
4) Don't be afraid to try something new - be adventurous! In Uppsala they experimented with the digital photo frames, QR-codes (bar coding) and Layar augmented reality.
WATCH THE WEBINAR NOW
View more information about the webinar and view the instantpresenter recording.