Online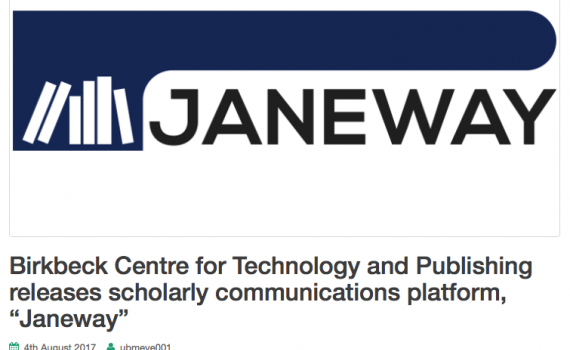 Join this webinar to learn more about Janeway, a free, open source publishing platform developed by the Centre for Technology and Publishing at Birkbeck, University of London. The webinar is jointly organized by EIFL and Open Library of Humanities.
Presenters Dr Rose Harris-Birtill, Editorial Officer, Open Library of Humanities, and Andy Byers and Mauro Sanchez, Senior Publishing Technology Developers at Birkbeck, will discuss features of the platform, which was developed to support the goals of the Open Library of Humanities.
Date and time: 29 October 2019, 10:00 GMT / 11:00 CET / 12:00 EAT/EET. Check your timezone here.
Registration: Please register here. 
To join the webinar: Please install the Zoom meetings application from the Zoom Download Centre before the webinar. Go to https://zoom.us/j/495318802 to attend the webinar.
Written in Django/Python, Janeway has all of the standard features of a Scholarly Communications platform including:
Registration and login, including login with ORCiD and reCaptcha
An easy to use submission and article tracking system (document management system)
Author profiles that can be made public
Full peer review, copy editing, typesetting and proofreading stages
Configurable email reminders for article review and revisions with multiple backends (including Mailgun)
Crossref DOIs and Similarity Check integration
A developer friendly plugin system
RSS/Atom, OAI-PMH, and Rest API feeds
COUNTER-compliant metrics capturing. 
Janeway also has some non-standard features:
A simple to use Preprint Repository system
An overlay journal system for curating remote articles into local issues
For more information, see Martin Paul Eve and Andy Byers, 'Janeway: A Scholarly Communications Platform', UKSG Insights, 31: 15, 1–4 (2018).