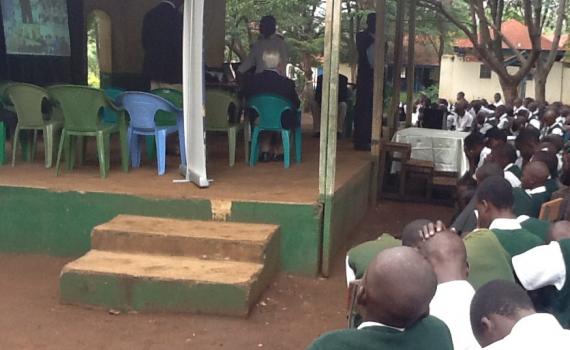 The innovative service
Schools hundreds of kilometres apart in remote areas of western Kenya and across the border in Uganda are engaging in lively inter-school debates, quizzes and spelling competitions through Kisumu Public Library's smartphone, laptop and video conferencing project.
Few rural schools have internet connections, and so the library researched ways of connecting to the internet through the mobile phone network. The library provides technology training for teachers, who use laptops and mobile phone connections to log in and connect to other schools.
The programme has opened the eyes of teachers and pupils to the power of digital technology. "This has opened up a new chapter in my teaching career! I have never seen such technology before!" said Ms Rosemary Mutakha, English teacher at Shikalakala primary school.
Creative use of ICT
For the project to work, the library must use the internet to connect to the schools. But most rural schools do not have broadband connections, and so they connect through mobile phone service providers. To do this, they either plug a mobile phone modem into a laptop through a USB port, or they convert a smartphone into a WiFi hotspot using a process known as 'tethering'. The tethering process involves enabling the hotpspot option on the phone, creating a wireless network by configuring wireless security, and then connecting the laptop to the new wireless network, just as you would at any hotspot.
Once the connections have been set up, free video conferencing software - VSee or ooVoo - enables teachers and pupils to see and hear each other.
more public libraries supporting education
Read about more innovative public library services supporting education of children and adults.PLIP-EDUCATION